Harco Enterprises offers a full line of sanitary product transfer hoses from Rubber Fab, Gates, and Novaflex. With the wide range of hoses, sizes and connection types available, Harco can offer a hose for your sanitary application. We serve the food, beverage, brewing and pharmaceutical and many other processing industries whether your moving products like milk to beer to hot oils, Harco has a solution for your application.
Please see our wide range of sanitary hoses below.
Novaflex Sanitary hoses
Novaflex® has the ideal hose for hygienic application for transfer of grains, powders, flour, dry foods, oil, syrup, dairy products like milk and cream, juices, beer, wine, potable water and more. Novaflex® Beverage and Food Hoses are characterized by reliability, safety; long service life, and easy, trouble free handling. Novaflex® food hoses are specifically designed for the transportation of beverages and foodstuffs.
Novaflex® hoses are designed to meet the most challenging and demanding applications in the exacting cleaning cycles required in the food and beverage processing industry. Novaflex's precision constructed hoses provide clean, robust, worry-free service for the most diverse processing and transfer operations. Hoses are highly functional and designed to meet both stringent safety standards as well as ease of operation. Novaflex® food hoses meet European standards REACH and ADI. International standards: FDA, USDA and 3-A (Certificate #1376), Canadian Food Inspection Agency (File: N267) regulations, and are resistant to Cleaning In Place solutions.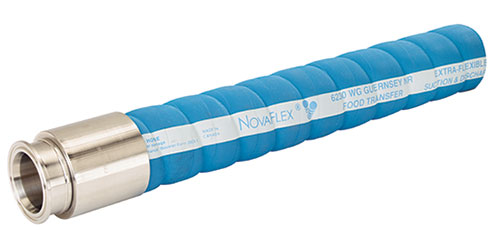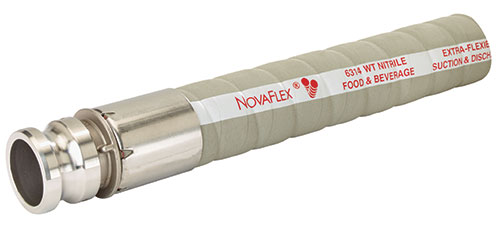 Gates Food and Beverage Master Suction & Discharge Hose
The Gates Food and Beverage Master hose is commonly used for the transfer of milk, juice, soft drinks, pharmaceutical products, cosmetics or water-based products that are requiring FDA sanitary hose. This hose is available in a gray or white cover and is crush and kink resistant an is available with a variety of stainless-steel connections.

Rubber Fab Hoses
Rubber Fab FDA approved rubber hoses are designed to transport a wide variety of fluids without imparting odor or taste and are specifically designed for sanitary suction and discharge applications. FDA rubber hoses are recommended for the transfer of milk, juice, soft drinks, yogurt, pharmaceuticals, cosmetics, and oil based or water-based products.
Rubber Fab hoses are available with a variety of stainless-steel, and non stainless connections.
for more information or contact us at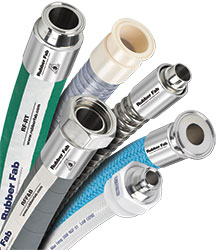 Protector® Suction & Discharge Hose
This premium quality, remarkably versatile-use hose has a seamless tube that is ideal for food, beverage and dairy plant use. It won't impart taste or odor to product and is highly resistant to common CIP solutions. Abrasion resistant cover helps maintain a clean appearance. Unique fabric spirals and helix reinforcement gives our suction and discharge hose exceptional flexibility. The protector hoses is  FDA, USDA, 3-A, and  CFIA approved.
for more information or contact us at