Alfa Laval LKSF
Slot Strainer

Available in two options: LKSF-BL and LKSF-CL.
The LKSF has a wide range of applications within process filtering, especially where strainers of sanitary design are required. Both strainer types consist of a housing in three parts, LKSF-BL has housing in two parts (101.6 mm)(4") in which the strainer element is placed.
The housing is assembled by clamps, (the upper clamp ring has a wing nut for manual operation) for quick dismantling for cleaning. The strainer element is fitted centrally in the housing and has direct access to the end cover of same where a welded-on handle facilitates dismantling when cleaning is required.
Contact Harco for your Alfa Laval LKSF Strainers or LKSF replacement part inquires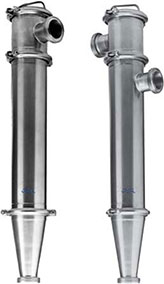 Click the links below to browse our superior selection of filters and strainers.