ALFA LAVAL LKSF SLOT STRAINER
Harco offers the Alfa Laval LKSF Slot Strainer which has a wide range of applications within process filtering. And is designed to fulfil basic filtration duties in hygienic applications across the dairy, food, beverage and brewery industries to protect equipment and product.
The LKSF Slot Strainer from Alfa Laval is a filter which separates solid matter from liquid that flows through it. Impurities are stopped by the filter element. When the filter is full of particles, it can be cleaned by removing the clamp and pulling out the filter element.
Alfa Laval's LKSF Slot Strainer consist of a housing in which the strainer element is fitted centered. There are two types of Alfa Laval LKSF Slot Strainers: the Alfa Laval LKSF-BL with housing in two parts (101.6 mm)(4") and the Alfa Laval LKSF-CL with housing in three parts for vertical installation.
Benefits
Fine filtration
Easy to install and clean
High-durability
Flexible filter element selection
Contact Harco for your Alfa Laval LKSF Strainers or LKSF replacement part inquires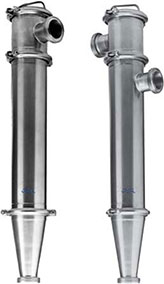 Click the links below to browse our superior selection of filters and strainers.