VISCOFLUX LITE DRUM UNLOADING SYSTEM
The FLUX specialist for transferring higher-viscosity materials that are just capable of flowing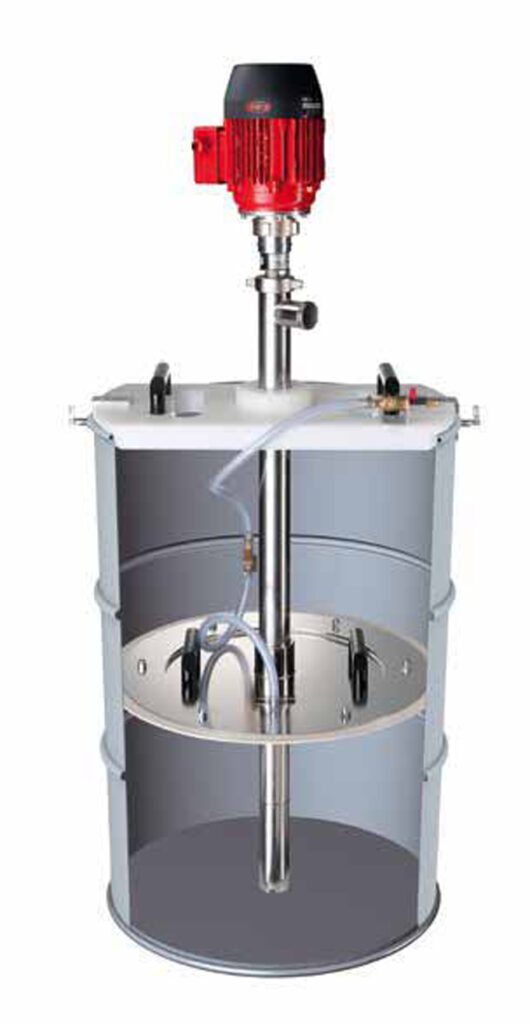 The VISCOFLUX lite drum unloading system is used to transfer higher-viscosity media that is just capable of flowing from 55 gal drums, ISO drums with lid and sea container drums. A complete system is made up of: F 500 eccentric worm-drive pump & motor, pump centering flange and a follower plate with process seal.
The system transports the media gently and continuously. Like the VISCOFLUX and the VISCOFLUX mobile, the VISCOFLUX lite leaves just less than 1 % of the media in the drum. In the Ex-version it is suitable for the use in hazardous areas of zone 1 and for transferring a wide variety of flammable media (zone 0/1).
VISCOFLUX lite Product attributes:
Simple and fast to install with few components
Captures over 98% of the product in the drum
Gentle handling of sensitive products
Quick disassembly allows for fast cleaning
Follower plate seal creates an airtight barrier
Low installation height requirement
Full range of accessories
Eccentric worm-drive pump for gentle transport of the medium with little turbulence and pulsation
EX version is suitable for use in hazardous areas (zone 0/1)
Technical data
Flow rate: max. 13 GPM
Delivery pressure: max. 116 PSIG
Viscosity: max. 500,000 cPs
Assists in pumping substances that are just capable of flowing
Fits drums with an inner diameter of 20 in/22.2 in (510mm/571.5 mm)
Non-explosion protected version designed for pump with Ø 54 mm, Ex-protected version for pump with Ø 50 mm
Residual product in drum is less than 1-2 %
Click the links below to browse our selection of Drum Unloading Systems.