SHEAR-max High Shear Inline Mixer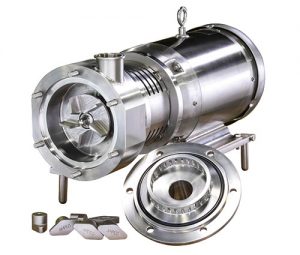 Ampco's SHEAR-max delivers high shear inline mixing with a twist. This Ampco SHEAR-max mixer offers particle size reduction, emulsification and dispersion with tight tolerances for high shear applications and very efficient flow.
The curved rotor and various stator designs make it one of the most efficient and hygienic designs on the market. The SHEAR-max from Ampco can disperse, dissolve, emulsify, de-agglomerate, homogenize or simply blend.
Ampco SHEAR-max features:
Integrated impeller and dynamic shear teeth

Clean-in-place

316L stainless steel construction/ 304 stainless steel adapter

Dynamically balanced impeller

Multiple stator designs

Available in single or multi stage design

Max flow rate: 400 GPM / 91 M3/hr
for more information or contact us at
Click the links below to browse our superior selection of mixers and blenders.