LKC 2 Check Valve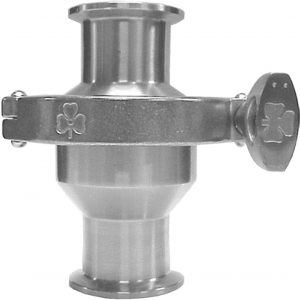 Specially designed for use in stainless steel pipe installations, Alfa Laval's LKC-2 non-return valve ensures the single directional product flow through process lines. This provides protection for process equipment that can be affected by reverse flow and prevents pressure surges and/or system shutdown. Widely used in various processes throughout the sanitary industry, these standard non-return valves are safe and highly reliable.
The standard range of the LKC-2 non-return valve is constructed of standard 304 or acid-resistant 316L stainless steel. Easy to install, the valve is designed to handle maximum product pressure up to 10 bar and temperatures ranging from -10°C to 140°C (EPDM). Alfa Laval LKC parts are available.
Click the links below to browse our selection of check valves.