Burkert Diaphragm Valves​
Bürkert offers a broad range of diaphragm valve solutions (control, on/off and hygienic specialty valves) to fit your individual needs. Configure your valves from the very best ingredients of actuator, diaphragm and body from a single source with proven Bürkert quality. Choose the innovative Tube Valve Body for example and regain production time due to shorter heat-ups and cool-downs. You can combine it with your desired diaphragm and actuator.
All the materials used in making the Burkert diaphragms are traceable. This gives you the assurance that only the "best of ingredients" have been used for your diaphragm. In addition to this, you can choose from a wide variety of materials (and therefore diaphragm types), providing for maximum flexibility to suit your processing task. A number of diaphragms from our range are suitable for CP (Cleaning in Place) and SIP (Sterilization in Place), and it goes without saying that they are internationally certified for use in hygienic processing.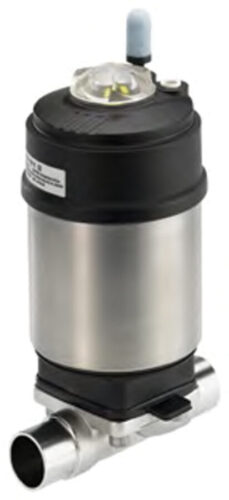 Click the links below to browse our selection of diaphragm valves.