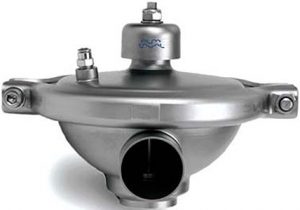 Alfa Laval's Constant Pressure Modulating (CPM) valve is a pneumatic regulating valve that maintains a constant inlet or outlet pressure in hygienic process lines. Thanks to a quick response diaphragm, these compact valves immediately react to any change in product pressure, adjusting position to keep the pressure at pre-set values.
A CPM valve features a self-draining design and crevice-free, bowl-shaped valve body with welded valve seat to enable thorough cleaning, thus eliminating potential entrapment areas. The unique diaphragm with PTFE on the lower diaphragm also contributes to excellent cleanability.
Designed to maintain a constant pressure at the valve inlet or outlet, using different plug sizes and different Kv values.
The diaphragm in the valve enables it, under aseptic conditions, to react effectively to any changes in product pressure by shifting position against a constant air pressure. Alfa Laval CPM parts are also available.
Click the links below to browse our range of Regulating Valves.