AMPCO DRY Hopping
The simplicity of the Ampco ROLEC DH Induction Systems means dry hopping just got safer and easier.
Harco offers the ROLEC DH Induction Systems, developed by the Ampco Applied Products division with craft brewer needs in mind. These fully portable ROLEC DH systems, powered by Ampco's in-line SBI shear blending pumps, are used at ground level. Ampco's ROLEC DH units are an effective and portable way to add dry hop pellets to fermenting, finished, or crashed beer.
Ampco's ROLEC DH units use the Ampco SBI blending pump to safely induce dry hop pellets, fruit, spices, coffee, cocoa nibs and more directly into the stream of beer, while recirculating the fermenter. All three systems use carbon dioxide to eliminate oxygen from the hop chamber. Pellets can be induced into fermenting, finished, or crashed beer. The induced media is chopped to maximize the surface area, flavor and aroma.
The ROLEC DH45, ROLEC DH90 and ROLEC DH250 models offer small to large scale breweries a safe and efficient way to dry hop and creatively induce flavors into beer. The units provide recirculation, as well as dry hops addition, and are easily transported or stored.
Not just for hop induction, these ROLEC DH units can be utilized to induce fruit, coffee, spices, nuts, honey, maple syrup and more. The induction options are limited only by the brewer's creativity.
ROLEC DH features:
3 models: DH45/DH90/DH250
Pressurized tank with glass-top manway on the DH90 and DH250 allows for balancing
Fermenter pressures and visual monitoring
The DH45 is a lower cost, non-pressurized system designed for smaller craft breweries
Gauges and sight glasses aid the user in monitoring induction and pressures
Minimal dissolved oxygen (D.O. pick-up) less than 5 PPB
All components are sanitary and can be cleaned in place (CIP) (no additional CIP pump is required)
The fully-portable DH can be used on many fermenters and fits well in cramped cellars
Recirculation can be done as long as desired (3-4 fermenter turnovers are recommended)
Improved aroma and flavor profile, faster tank turnovers and safe, ground level induction
for more information or contact us at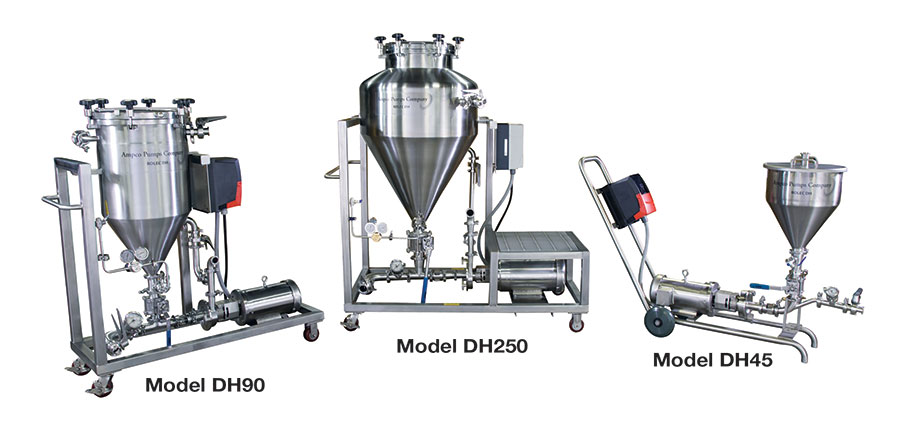 Click the links below to browse our superior selection of powder and ingredient systems.