Tri-Clover PR / PRE / PRED PUMPS
The Tri-Clover PR, PRE, or PRED pumps are no longer manufactured by Alfa Laval. However, Harco still supports the Tri-Clover PR series by supplying spare parts for repair or maintenance.
This product is no longer available. However, spare parts and service materials may still be available. Contact Harco for help with repairs, maintenance, or replacement.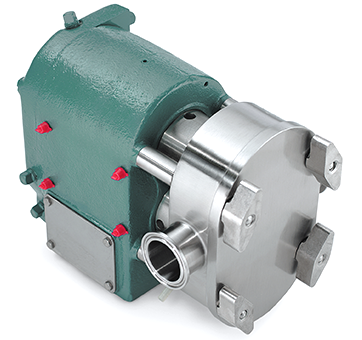 Tri Clover PR Series Pumps - PR Service Kit
| | | | | | | |
| --- | --- | --- | --- | --- | --- | --- |
| Description | PRE3  | PRE10  | PRE25  | PRE60  | PRE125  | PRE300  |
| PR-1 Service Kits (for rubber rotors) – BUNA | 400199 | 400200 | 400201 | 400202 | 400202 | 400204 |
| PR-1 Service Kits (for rubber rotors) – EPDM  | 9634052419 | 9613990426 | 400662 | 402139 | 402139 | 9613990429 |
| PR-1 Service Kits (for rubber rotors) – SFY | 401812 | 401779 | 401669 | 402063 | 402063 | 400707 |
| PR-1A Service Kits (for SS rotors-includes rotor carbons) -BUNA  | N/A | 400206  | 400207 | 400208 | 400208 | 400210 |
| PR-1A Service Kits (for SS rotors-includes rotor carbons) -EPDM  | N/A | 9613990430  | 400404 | 9613990431 | 9613990431 | 9613990432 |
| PR-1A Service Kits (for SS rotors-includes rotor carbons) -SFY  | N/A | 401780  | 400344 | 402361 | 402361 | 400351 |
Tri Clover PR Series Pumps - PRE Service Kit
| | | | | | | |
| --- | --- | --- | --- | --- | --- | --- |
| Description | PRE3  | PRE10  | PRE25  | PRE60  | PRE125  | PRE300  |
| PRE-1 Service Kits (for rubber rotors) – BUNA | 400252 | 400253 | 400254 | 400255 | 400255 | 400257 |
| PRE-1 Service Kits (for rubber rotors) – EPDM  | 9613990433 | 9613990434 | 400306 | 9613990436 | 9613990436 | 9613990437 |
| PRE-1 Service Kits (for rubber rotors) – SFY | 400956 | 401490 | 401846 | 401996 | 401996 | 9613990438 |
| PRE-1A Service Kits (for SS rotors-includes rotor carbons) -BUNA  | N/A | 400265 | 400266 | 400267 | 400267 | 400269 |
| PRE-1A Service Kits (for SS rotors-includes rotor carbons) -EPDM  | N/A | 9613990439 | 9613990440 | 9613990442 | 9613990442 | 9613990444 |
| PRE-1A Service Kits (for SS rotors-includes rotor carbons) -SFY  | N/A | 400640 | 9613990441 | 9613990443 | 9613990443 | 9613990445 |
Tri Clover PR Series Pumps - PRED Service Kit
| | | | | | | |
| --- | --- | --- | --- | --- | --- | --- |
| Description | PRE3  | PRE10  | PRE25  | PRE60  | PRE125  | PRE300  |
| PRED-1 Service Kits (for rubber rotors) – BUNA | 400226 | 400227 | 400228 | 400229 | 400229 | 400231 |
| PRED-1 Service Kits (for rubber rotors) – EPDM  | 9634600000 | 9613990446 | 400421 | 9613990447 | 9613990447 | 9613990448 |
| PRED-1 Service Kits (for rubber rotors) – SFY | 401813 | 401993 | 401994 | 401995 | 401995 | 401882 |
| PRED-1A Service Kits (for SS rotors-includes rotor carbons) -BUNA  | N/A | 400233 | 400234 | 400235 | 400235 | 400237 |
| PRED-1A Service Kits (for SS rotors-includes rotor carbons) -EPDM  | N/A | 9613990449 | 9613990450 | 9613990451 | 9613990451 | 9613990452 |
| PRED-1A Service Kits (for SS rotors-includes rotor carbons) -SFY  | N/A | 402298 | 401663 | 400006 | 400006 | 9613990453 |