BÜRKERT – TYPE 8045 INSERTION MAGNETIC INDUCTIVE FLOW METER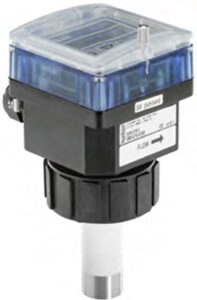 Harco offers this electromagnetic flow meter type 8045 from Bürkert, made up of an electronic module including a backlit display, operating keys and a sensor consisting of PVDF or stainless steel material. The Bürkert Type 8045 Insertion Magnetic Inductive Flow Meter measures flow rate of neutral and slightly aggressive fluids with a conductivity of more than 20 µS/cm in DN 06…DN 400 pipes.
Bürkert's 8045 Insertion magnetic inductive flow meter comes equipped with a 4…20 mA output, a digital output (pulse output by default). Some versions are equipped with two relay outputs and one digital input. Two independent totalizers allow counting the flow rate.
This electromagnetic flow meter 8045 from Bürkert comes available either with a G 2″ connection with a PVDF sensor, or a G 2″, or clamp connection with a stainless steel sensor which are designed for use with Type S020 Insertion fitting.
The version with a stainless steel sensor can be used in applications with higher pressures (PN 16) and higher temperatures (110 °C). The version with Alloy C22 electrodes has been designed for applications with aggressive fluids (chemicals) and especially sea water applications.
Sensor without moving parts
Indicates both flow rate and volume
Simulation of all output signals
Clean in place (CIP), FDA-compliant materials
Version with Alloy C22 electrodes
for more information or contact us at
for a overview of Burkert Flow Measuring Devices.
Click the links below to browse our selection of flow measurement instruments.