ALFA LAVAL SX ULTRAPURE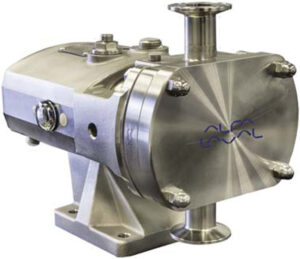 The Alfa Laval SX UltraPure is Alfa Laval's rotary lobe pump specifically designed for gentle transportation of process fluids in high-purity applications in the Pharmaceutical and Biotechnology industries.
Low pulsation, low shear and low noise characteristics, while ensuring efficient fluid transfer, are trademarks for the Alfa Laval SX UltraPure pump providing process repeatability and increasing product quality and yield.
Alfa Laval's SX UltraPure rotary lobe pumps are designed with features that maximize performance and minimize the risk of contamination. These include a low-profile rotor nut, hygienic front-loading mechanical seals, defined compression front cover sealing, USP Class VI elastomers, fully drainable pump head with 3° fall angle, enhanced surface finishes and paint free stainless-steel gearbox
All Alfa Laval SX UltraPure rotary lobe pumps are supplied with the Q-Doc documentation package to assist in qualification, validation and change control. They comply with EHEDG, 3.1 and FDA hygienic standards and have ATEX approval for use in explosive environments. For more information, please consult the documentation provided.
for more information or contact us at