ALFA LAVAL D10 AND D11 PLUG VALVES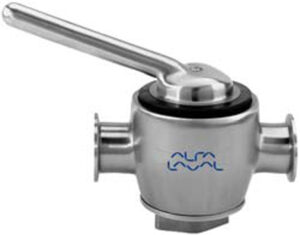 Harco offers the Alfa Laval D10 and D11 Plug Valves that are the classics of dairy valves. These D10 and D11 Plug Valves from Alfa Laval are designed for quick and easy operation where a sanitary closing device with minimum pressure drop is required.
The bonded rubber or stainless-steel plug valves from Alfa Laval can be used in food, dairy, beverage, home and personal care and chemical applications. Alfa Laval's D10 is a two-way valve, and the D11 is a three-way valve.
Standard Design
Alfa Laval's D10 and D11 Plug Valves are made of AISI 304 stainless-steel. They have a strong, rigid body made from drop forged homogeneous material, and the plug is rubber coated. An optional chrome plated and lapped metal plug is available.
The plug valves may also be supplied with weld connections, clamps or threaded connections.
for more information about the Alfa Laval Plug Valves.