Contherm® SCRAPED-SURFACE HEAT EXCHANGER
The Contherm®​ scraped-surface heat exchanger from Tetra Pak® is suited for hygienic heating and cooling of sticky and particulate food products. The product is pumped into the lower end of the vertical heat exchanger and flows through the cylinder. It's continuously agitated and removed from the cylinder wall by the scraping blades. Heating and cooling media flow in the annular space between the heat transfer cylinder and the insulated jacket.
These Contherm®​ scraped-surface heat exchangers can be connected in series for in-line heating and cooling.
Features:
Vertical installation eliminates air pockets
Driving unit on top
4 sizes with heating area, from 0,28 to 0,98 square meters
Benefits:
Minimal floor space
Easy to open for inspection and exchange of scraping knives
Ideal for sticky, lumpy food products​
Contherm®​ scraped-surface heat exchangers are always fully tailored to fit the intended application. Tetra Pak® Contherm®​ scraped-surface heat exchangers parts are also available.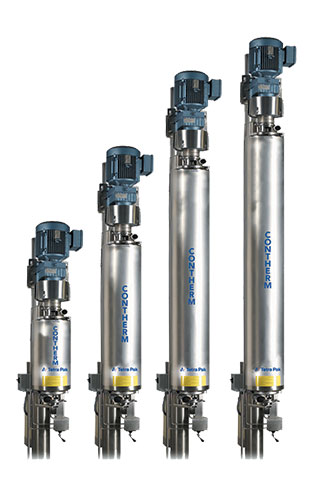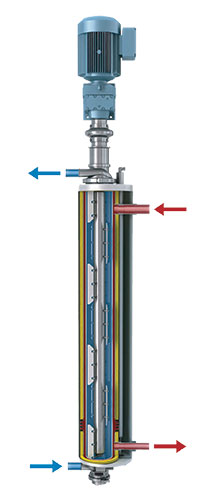 for more information or for a quote contact us at
Click the links below to browse our selection of heat exchangers.