ALFA LAVAL STREAMLINE™ IN-LINE FILTER/STRAINER
Available in long and short models, Alfa Laval's Streamline™ filter/strainer provides versatile, cost-effective filtration. Designed for maximum application flexibility, the Streamline housing accepts a wide range of disposable filter and reusable strainer media. They are ideal for use in the dairy, food, beverage, meat and poultry, cosmetics, and pharmaceutical industries.
Contact Harco for your Alfa Laval Streamline Filters and Strainers or Streamline replacement part inquires.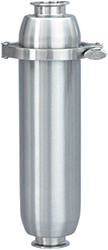 Click the links below to browse our superior selection of filters and strainers.