VARIABLE FREQUENCY DRIVES (VFDs)
Variable frequency drives (VFDs) connect to a motor's electrical supply and vary the frequency of the electricity powering the motor. This controls the motor's performance and reduces the amount of energy the motor consumes. VFDs work with three-phase vector (inverter) motors in constant-torque and variable-torque applications.
SMVector/Washdown Duty Inverter – Flexible, simple, economical, robust.
The SMVector continues its price leadership tradition in the highly competitive AC drive market. Its performance and flexibility make it an attractive solution for a broad range of applications including:
Food processing machinery
Packaging machinery
Material handling/conveying systems
HVAC systems
The SMVector makes good its promise of price leadership in delivering unparalleled performance and simplicity. The SMVector is the right choice when you need it all – performance, power, packaging and intuitive programming.
Superior Performance
Modes of Operation:

V/Hz (Constant and Variable)
Enhanced V/Hz (Constant and Variable)
Vector Speed Control
Vector Torque Control

Dynamic Torque Response
Sophisticated Auto-tuning (Motor Calibration)
Impressive Low Speed Operation
Sequencer with 16 Programmable Segments
Flexible Power Ranges
International Voltages:

120/240V, 1Ø (up to 1.5 Hp)
200/240V, 1/3Ø (up to 3 Hp)
200/240V, 3Ø (up to 20 Hp)
400/480V, 3Ø (up to 60 Hp)
480/600V, 3Ø (up to 60 Hp)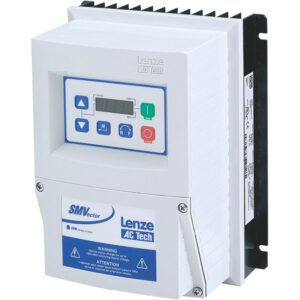 Industrial Grade Packaging
NEMA Type 1 (IP31) Enclosure
NEMA 4X (IP65) Indoor Only
NEMA 4X (IP65) Indoor/Outdoor
Simplicity
Intuitive User Interface
Electronic Memory Module (EPM)
Optional Disconnect Switch (NEMA 4X only)
Optional Potentiometer Switch (NEMA 4X only)
Harco has the ability to offer a complete customized package of pumps and motors assembled on a stainless-steel base with VFD's to fit your specifications.
for more information or contact us at
Click the links below to browse our selection of Motors, Drives & VFDs.