BÜRKERT – TYPE S056 MAGNETIC INDUCTIVE SENSOR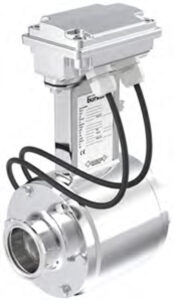 with hygienic ­process connections
Harco offers the Bürkert Type S056 Magnetic Inductive Flow Sensor (compact or separate version) that is suitable for low-flow applications and liquids with minimum conductivity.
The combination with the dedicated Bürkert SE58 S transmitter (minimum required conductivity: 20 µS/cm) or with the Bürkert SE58 M or Bürkert SE58 L transmitters (minimum conductivity required: 5 µS/cm) results in a flow meter with different performance, functions, materials and approvals, with the corresponding suitability for the respective applications depending on the respective requirements.
With the Bürkert SE58 S you get a compact device, with the Bürkert SE58 M and Bürkert SE58 L compact devices or remote versions are created for which the transmitter and sensor are connected by 2 cables up to a maximum length. Standard process connections available for the Bürkert S056 Magnetic Inductive Flow Sensor are clamp or thread (dairy thread) connections.
For connection to a transmitter Bürkert Type SE58 (with or without display, in compact or remote version) for flow measurement
Hygienic version, 3A certificate
For food and beverage or pharmaceutical applications
Flow rate measurements 0.2…approx. 4,500 l/min for DN 03…DN 100
for more information or contact us at
for a overview of Burkert Flow Measuring Devices.
Click the links below to browse our selection of flow measurement instruments.