AMPCO AL Series Pumps
Ampco's AL rotary lobe pump is well-suited for a variety of applications in the food, dairy, beverage and pharmaceutical industries with viscosity ranges from 1 to 1,000,000 cP and self-priming capabilities up to 12 feet. There are several optional features in the AL Series line-up providing maximum flexibility for each application.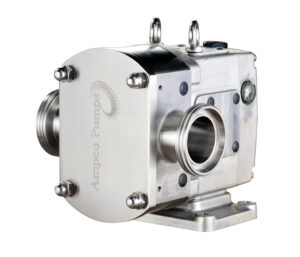 Seal choices include: double mechanical, mechanical seal with flush, double lip seal, triple lip seal, O-ring, and double O-ring. Heating and cooling jackets for temperature sensitive processing are available.
Features:
304 Stainless Steel Gearcase Standard on All Models
Versatile Pump
Fully CIP-Able
Ease of Maintenance
Affordable
Designed, Manufactured and Assembled in the U.S.A.
Contact Harco for your Ampco AL pump or AL replacement part inquires. 
for more information or contact us at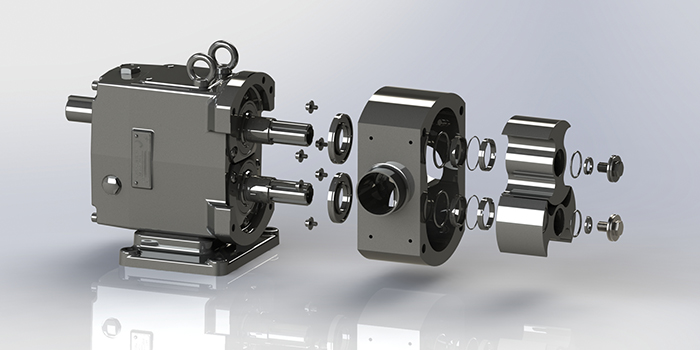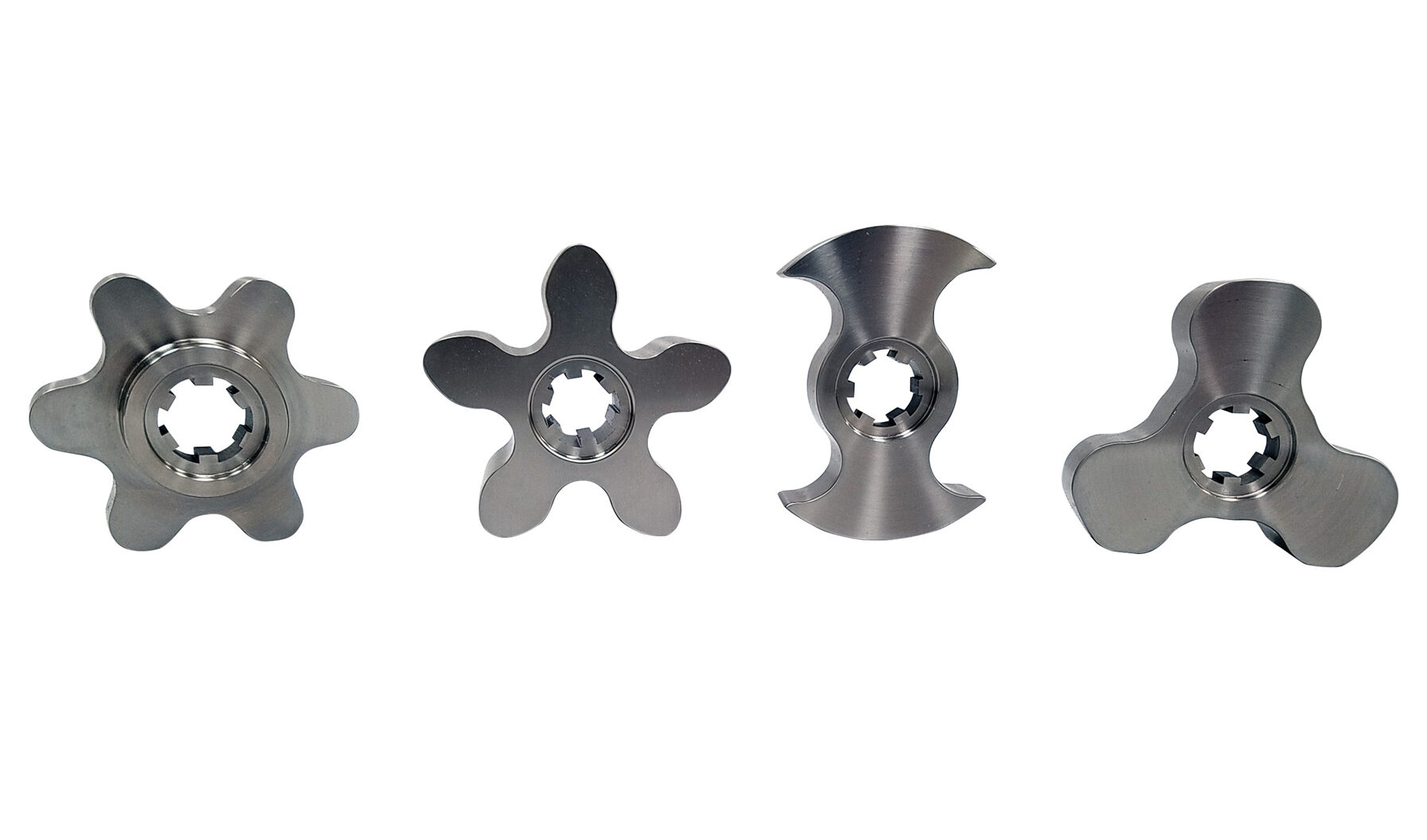 SEAL KITS FOR AMPCO AL SERIES PUMPS
Ampco AL - Single Mechanical Seal Kits
| | | |
| --- | --- | --- |
| Description | AL05 | AL10 |
| SINGLE MECHANICAL SEAL KIT (SC/SC W/ EPDM) *(1) | AL05-SGL-SC | AL10-SGL-SC |
| SINGLE MECHANICAL SEAL KIT (SC/SC W/ VITON) *(1) | AL05-SGL-SC-V | AL10-SGL-SC-V |
| SINGLE MECHANICAL SEAL KIT (TC/TC W/ EPDM) *(1) | AL05-SGL-TC | AL10-SGL-TC |
| SINGLE MECHANICAL SEAL KIT (TC/TC W/ VITON) *(1) | AL05-SGL-TC-V | AL10-SGL-TC-V |
| | | |
| --- | --- | --- |
| Description |  AL15 / AL20 | AL22 / AL25  |
| SINGLE MECHANICAL SEAL KIT (SC/SC W/ EPDM) *(1) | AL15-SGL-SC | AL20-SGL-SC |
| SINGLE MECHANICAL SEAL KIT (SC/SC W/ VITON) *(1) | AL15-SGL-SC-V | AL20-SGL-SC-V |
| SINGLE MECHANICAL SEAL KIT (TC/TC W/ EPDM) *(1) | AL15-SGL-TC | AL20-SGL-TC |
| SINGLE MECHANICAL SEAL KIT (TC/TC W/ VITON) *(1) | AL15-SGL-TC-V | AL20-SGL-TC-V |
| | | |
| --- | --- | --- |
| Description | AL33 / AL34  | AL44 / AL46  |
| SINGLE MECHANICAL SEAL KIT (SC/SC W/ EPDM) *(1) | AL30-SGL-SC | AL40-SGL-SC |
| SINGLE MECHANICAL SEAL KIT (SC/SC W/ VITON) *(1) | AL30-SGL-SC-V | AL40-SGL-SC-V |
| SINGLE MECHANICAL SEAL KIT (TC/TC W/ EPDM) *(1) | AL30-SGL-TC | AL40-SGL-TC |
| SINGLE MECHANICAL SEAL KIT (TC/TC W/ VITON) *(1) | AL30-SGL-TC-V | AL40-SGL-TC-V |
Ampco AL - Double Mechanical Seal Kits
| | | |
| --- | --- | --- |
| Description | AL05 | AL10 |
| DOUBLE MECHANICAL SEAL KIT (SC/SC-SC/SC W/ EPDM) *(2) | AL05-DBL-SC | AL10-DBL-SC |
| DOUBLE MECHANICAL SEAL KIT (SC/SC-SC/SC W/ VITON) *(2) | AL05-DBL-SC-V | AL10-DBL-SC-V |
| DOUBLE MECHANICAL SEAL KIT (TC/TC-TC/TC W/ EPDM) *(2) | AL05-DBL-TC | AL10-DBL-TC |
| DOUBLE MECHANICAL SEAL KIT (TC/TC-TC/TC W/ VITON) *(2) | AL05-DBL-TC-V | AL10-DBL-TC-V |
| | | |
| --- | --- | --- |
| Description | AL15 / AL20 | AL22 / AL25 |
| DOUBLE MECHANICAL SEAL KIT (SC/SC-SC/SC W/ EPDM) *(2) | AL15-DBL-SC | AL20-DBL-SC |
| DOUBLE MECHANICAL SEAL KIT (SC/SC-SC/SC W/ VITON) *(2) | AL15-DBL-SC-V | AL20-DBL-SC-V |
| DOUBLE MECHANICAL SEAL KIT (TC/TC-TC/TC W/ EPDM) *(2) | AL15-DBL-TC | AL20-DBL-TC |
| DOUBLE MECHANICAL SEAL KIT (TC/TC-TC/TC W/ VITON) *(2) | AL15-DBL-TC-V | AL20-DBL-TC-V |
| | | |
| --- | --- | --- |
| Description | AL33 / AL34 | AL44 / AL46 |
| DOUBLE MECHANICAL SEAL KIT (SC/SC-SC/SC W/ EPDM) *(2) | AL30-DBL-SC | AL40-DBL-SC |
| DOUBLE MECHANICAL SEAL KIT (SC/SC-SC/SC W/ VITON) *(2) | AL30-DBL-SC-V | AL40-DBL-SC-V |
| DOUBLE MECHANICAL SEAL KIT (TC/TC-TC/TC W/ EPDM) *(2) | AL30-DBL-TC | AL40-DBL-TC |
| DOUBLE MECHANICAL SEAL KIT (TC/TC-TC/TC W/ VITON) *(2) | AL30-DBL-TC-V | AL40-DBL-TC-V |
Ampco AL - Flushed Single Mechanical Seal Kits
| | | |
| --- | --- | --- |
| Description | AL05 | AL10 |
| FLUSHED SINGLE MECHANICAL SEAL KIT (SC/SC W/ EPDM) *(3) | AL05-SGLF-SC | AL10-SGLF-SC |
| FLUSHED SINGLE MECHANICAL SEAL KIT (SC/SC W/ VITON) *(3) | AL05-SGLF-SC-V | AL10-SGLF-SC-V |
| FLUSHED SINGLE MECHANICAL SEAL KIT (TC/TC W/ EPDM) *(3) | AL05-SGLF-TC | AL10-SGLF-TC |
| FLUSHED SINGLE MECHANICAL SEAL KIT (TC/TC W/ VITON) *(3) | AL05-SGLF-TC-V | AL10-SGLF-TC-V |
| | | |
| --- | --- | --- |
| Description | AL15 / AL20 | AL22 / AL25 |
| FLUSHED SINGLE MECHANICAL SEAL KIT (SC/SC W/ EPDM) *(3) | AL15-SGLF-SC | AL20-SGLF-SC |
| FLUSHED SINGLE MECHANICAL SEAL KIT (SC/SC W/ VITON) *(3) | AL15-SGLF-SC-V | AL20-SGLF-SC-V |
| FLUSHED SINGLE MECHANICAL SEAL KIT (TC/TC W/ EPDM) *(3) | AL15-SGLF-TC | AL20-SGLF-TC |
| FLUSHED SINGLE MECHANICAL SEAL KIT (TC/TC W/ VITON) *(3) | AL15-SGLF-TC-V | AL20-SGLF-TC-V |
| | | |
| --- | --- | --- |
| Description | AL33 / AL34 | AL44 / AL46 |
| FLUSHED SINGLE MECHANICAL SEAL KIT (SC/SC W/ EPDM) *(3) | AL30-SGLF-SC | AL40-SGLF-SC |
| FLUSHED SINGLE MECHANICAL SEAL KIT (SC/SC W/ VITON) *(3) | AL30-SGLF-SC-V | AL40-SGLF-SC-V |
| FLUSHED SINGLE MECHANICAL SEAL KIT (TC/TC W/ EPDM) *(3) | AL30-SGLF-TC | AL40-SGLF-TC |
| FLUSHED SINGLE MECHANICAL SEAL KIT (TC/TC W/ VITON) *(3) | AL30-SGLF-TC-V | AL40-SGLF-TC-V |
Ampco AL - Single O-Ring Seal Kits
| | | |
| --- | --- | --- |
| Description | AL05 | AL10 |
| SINGLE O-RING SEAL KIT (SS VS. EPDM) *(4) | AL05-OSGL-SS | AL10-OSGL-SS |
| SINGLE O-RING SEAL KIT (SS VS. VITON) *(4) | AL05-OSGL-SS-V | AL10-OSGL-SS-V |
| SINGLE O-RING SEAL KIT (CERAMIC VS. EPDM) *(4) | AL05-OSGL-CER | AL10-OSGL-CER |
| SINGLE O-RING SEAL KIT (CERAMIC VS. VITON) *(4) | AL05-OSGL-CER-V | AL10-OSGL-CER-V |
| SINGLE O-RING SEAL KIT (CERAMIC COATED [COX] VS. EPDM) *(4) | AL05-OSGL-COX | AL10-OSGL-COX |
| SINGLE O-RING SEAL KIT (CERAMIC COATED [COX] VS. VITON) *(4) | AL05-OSGL-COX-V | AL10-OSGL-COX-V |
| | | |
| --- | --- | --- |
| Description | AL15 / AL20 | AL22 / AL25 |
| SINGLE O-RING SEAL KIT (SS VS. EPDM) *(4) | AL15-OSGL-SS | AL20-OSGL-SS |
| SINGLE O-RING SEAL KIT (SS VS. VITON) *(4) | AL15-OSGL-SS-V | AL20-OSGL-SS-V |
| SINGLE O-RING SEAL KIT (CERAMIC VS. EPDM) *(4) | AL15-OSGL-CER | AL20-OSGL-CER |
| SINGLE O-RING SEAL KIT (CERAMIC VS. VITON) *(4) | AL15-OSGL-CER-V | AL20-OSGL-CER-V |
| SINGLE O-RING SEAL KIT (CERAMIC COATED [COX] VS. EPDM) *(4) | AL15-OSGL-COX | AL20-OSGL-COX |
| SINGLE O-RING SEAL KIT (CERAMIC COATED [COX] VS. VITON) *(4) | AL15-OSGL-COX-V | AL20-OSGL-COX-V |
| | | |
| --- | --- | --- |
| Description | AL33 / AL34 | AL44 / AL46 |
| SINGLE O-RING SEAL KIT (SS VS. EPDM) *(4) | AL30-OSGL-SS | AL40-OSGL-SS |
| SINGLE O-RING SEAL KIT (SS VS. VITON) *(4) | AL30-OSGL-SS-V | AL40-OSGL-SS-V |
| SINGLE O-RING SEAL KIT (CERAMIC VS. EPDM) *(4) | AL30-OSGL-CER | AL40-OSGL-CER |
| SINGLE O-RING SEAL KIT (CERAMIC VS. VITON) *(4) | AL30-OSGL-CER-V | AL40-OSGL-CER-V |
| SINGLE O-RING SEAL KIT (CERAMIC COATED [COX] VS. EPDM) *(4) | AL30-OSGL-COX | AL40-OSGL-COX |
| SINGLE O-RING SEAL KIT (CERAMIC COATED [COX] VS. VITON) *(4) | AL30-OSGL-COX-V | AL40-OSGL-COX-V |
Ampco AL - Double Lip Seal Kits
| | | |
| --- | --- | --- |
| Description | AL05 | AL10 |
| DOUBLE LIP SEAL KIT (TEFLON VS. CERAMIC W/ EPDM) *(5) | AL05-2LIP-CER | AL10-2LIP-CER |
| DOUBLE LIP SEAL KIT (TEFLON VS. CERAMIC W/ VITON) *(5) | AL05-2LIP-CER-V | AL10-2LIP-CER-V |
| DOUBLE LIP SEAL KIT (TEFLON VS. CERAMIC COATED [COX] W/ EPDM) *(5) | AL05-2LIP-COX | AL10-2LIP-COX |
| DOUBLE LIP SEAL KIT (TEFLON VS. CERAMIC COATED [COX] W/ VITON) *(5) | AL05-2LIP-COX-V | AL10-2LIP-COX-V |
| | | |
| --- | --- | --- |
| Description | AL15 / AL20 | AL22 / AL25 |
| DOUBLE LIP SEAL KIT (TEFLON VS. CERAMIC W/ EPDM) *(5) | AL15-2LIP-CER | AL20-2LIP-CER |
| DOUBLE LIP SEAL KIT (TEFLON VS. CERAMIC W/ VITON) *(5) | AL15-2LIP-CER-V | AL20-2LIP-CER-V |
| DOUBLE LIP SEAL KIT (TEFLON VS. CERAMIC COATED [COX] W/ EPDM) *(5) | AL15-2LIP-COX | AL20-2LIP-COX |
| DOUBLE LIP SEAL KIT (TEFLON VS. CERAMIC COATED [COX] W/ VITON) *(5) | AL15-2LIP-COX-V | AL20-2LIP-COX-V |
| | | |
| --- | --- | --- |
| Description | AL33 / AL34 | AL44 / AL46 |
| DOUBLE LIP SEAL KIT (TEFLON VS. CERAMIC W/ EPDM) *(5) | AL30-2LIP-CER | AL40-2LIP-CER |
| DOUBLE LIP SEAL KIT (TEFLON VS. CERAMIC W/ VITON) *(5) | AL30-2LIP-CER-V | AL40-2LIP-CER-V |
| DOUBLE LIP SEAL KIT (TEFLON VS. CERAMIC COATED [COX] W/ EPDM) *(5) | AL30-2LIP-COX | AL40-2LIP-COX |
| DOUBLE LIP SEAL KIT (TEFLON VS. CERAMIC COATED [COX] W/ VITON) *(5) | AL30-2LIP-COX-V | AL40-2LIP-COX-V |
Ampco AL - Triple Lip Seal Kits
| | | |
| --- | --- | --- |
| Description | AL05 | AL10 |
| TRIPLE LIP SEAL KIT (TEFLON VS. CERAMIC W/ EPDM) *(6) | AL05-3LIP-CER | AL10-3LIP-CER |
| TRIPLE LIP SEAL KIT (TEFLON VS. CERAMIC W/ VITON) *(6) | AL05-3LIP-CER-V | AL10-3LIP-CER-V |
| TRIPLE LIP SEAL KIT (TEFLON VS. CERAMIC COATED [COX] W/ EPDM) *(6) | AL05-3LIP-COX | AL10-3LIP-COX |
| TRIPLE LIP SEAL KIT (TEFLON VS. CERAMIC COATED [COX] W/ VITON) *(6) | AL05-3LIP-COX-V | AL10-3LIP-COX-V |
| | | |
| --- | --- | --- |
| Description | AL15 / AL20 | AL22 / AL25 |
| TRIPLE LIP SEAL KIT (TEFLON VS. CERAMIC W/ EPDM) *(6) | AL15-3LIP-CER | AL20-3LIP-CER |
| TRIPLE LIP SEAL KIT (TEFLON VS. CERAMIC W/ VITON) *(6) | AL15-3LIP-CER-V | AL20-3LIP-CER-V |
| TRIPLE LIP SEAL KIT (TEFLON VS. CERAMIC COATED [COX] W/ EPDM) *(6) | AL15-3LIP-COX | AL20-3LIP-COX |
| TRIPLE LIP SEAL KIT (TEFLON VS. CERAMIC COATED [COX] W/ VITON) *(6) | AL15-3LIP-COX-V | AL20-3LIP-COX-V |
| | | |
| --- | --- | --- |
| Description | AL33 / AL34 | AL44 / AL46 |
| TRIPLE LIP SEAL KIT (TEFLON VS. CERAMIC W/ EPDM) *(6) | AL30-3LIP-CER | AL40-3LIP-CER |
| TRIPLE LIP SEAL KIT (TEFLON VS. CERAMIC W/ VITON) *(6) | AL30-3LIP-CER-V | AL40-3LIP-CER-V |
| TRIPLE LIP SEAL KIT (TEFLON VS. CERAMIC COATED [COX] W/ EPDM) *(6) | AL30-3LIP-COX | AL40-3LIP-COX |
| TRIPLE LIP SEAL KIT (TEFLON VS. CERAMIC COATED [COX] W/ VITON) *(6) | AL30-3LIP-COX-V | AL40-3LIP-COX-V |
Ampco AL - Double O-Ring Seal Kits
| | | |
| --- | --- | --- |
| Description | AL05 | AL10 |
| DOUBLE O-RING SEAL KIT (SS VS. EPDM) *(7) | AL05-ODBL-SS | AL10-ODBL-SS |
| DOUBLE O-RING SEAL KIT (SS VS. VITON) *(7) | AL05-ODBL-SS-V | AL10-ODBL-SS-V |
| DOUBLE O-RING SEAL KIT (CERAMIC VS. EPDM) *(7) | AL05-ODBL-CER | AL10-ODBL-CER |
| DOUBLE O-RING SEAL KIT (CERAMIC VS. VITON) *(7) | AL05-ODBL-CER-V | AL10-ODBL-CER-V |
| DOUBLE O-RING SEAL KIT (CERAMIC COATED [COX] VS. EPDM) *(7) | AL05-ODBL-COX | AL10-ODBL-COX |
| DOUBLE O-RING SEAL KIT (CERAMIC COATED [COX] VS. VITON) *(7) | AL05-ODBL-COX-V | AL10-ODBL-COX-V |
| | | |
| --- | --- | --- |
| Description | AL15 / AL20 | AL22 / AL25 |
| DOUBLE O-RING SEAL KIT (SS VS. EPDM) *(7) | AL15-ODBL-SS | AL20-ODBL-SS |
| DOUBLE O-RING SEAL KIT (SS VS. VITON) *(7) | AL15-ODBL-SS-V | AL20-ODBL-SS-V |
| DOUBLE O-RING SEAL KIT (CERAMIC VS. EPDM) *(7) | AL15-ODBL-CER | AL20-ODBL-CER |
| DOUBLE O-RING SEAL KIT (CERAMIC VS. VITON) *(7) | AL15-ODBL-CER-V | AL20-ODBL-CER-V |
| DOUBLE O-RING SEAL KIT (CERAMIC COATED [COX] VS. EPDM) *(7) | AL15-ODBL-COX | AL20-ODBL-COX |
| DOUBLE O-RING SEAL KIT (CERAMIC COATED [COX] VS. VITON) *(7) | AL15-ODBL-COX-V | AL20-ODBL-COX-V |
| | | |
| --- | --- | --- |
| Description | AL33 / AL34 | AL44 / AL46 |
| DOUBLE O-RING SEAL KIT (SS VS. EPDM) *(7) | AL30-ODBL-SS | AL40-ODBL-SS |
| DOUBLE O-RING SEAL KIT (SS VS. VITON) *(7) | AL30-ODBL-SS-V | AL40-ODBL-SS-V |
| DOUBLE O-RING SEAL KIT (CERAMIC VS. EPDM) *(7) | AL30-ODBL-CER | AL40-ODBL-CER |
| DOUBLE O-RING SEAL KIT (CERAMIC VS. VITON) *(7) | AL30-ODBL-CER-V | AL40-ODBL-CER-V |
| DOUBLE O-RING SEAL KIT (CERAMIC COATED [COX] VS. EPDM) *(7) | AL30-ODBL-COX | AL40-ODBL-COX |
| DOUBLE O-RING SEAL KIT (CERAMIC COATED [COX] VS. VITON) *(7) | AL30-ODBL-COX-V | AL40-ODBL-COX-V |
O-RING KITS FOR AMPCO AL SERIES PUMPS
Ampco AL - Single O-Ring Kits
| | | |
| --- | --- | --- |
| Description | AL05 | AL10 |
| SINGLE O-RING KIT – EPDM | AL05-ORSGL-EP | AL10-ORSGL-EP |
| SINGLE O-RING KIT – VITON | AL05-ORSGL-VI | AL10-ORSGL-VI |
| | | |
| --- | --- | --- |
| Description |  AL15 / AL20 | AL22 / AL25  |
| SINGLE O-RING KIT – EPDM | AL15-ORSGL-EP | AL20-ORSGL-EP |
| SINGLE O-RING KIT – VITON | AL15-ORSGL-VI | AL20-ORSGL-VI |
| | | |
| --- | --- | --- |
| Description | AL33 / AL34  | AL44 / AL46  |
| SINGLE O-RING KIT – EPDM | AL30-ORSGL-EP | AL40-ORSGL-EP |
| SINGLE O-RING KIT – VITON | AL30-ORSGL-VI | AL40-ORSGL-VI |
Ampco AL - Double Mechanical Seal Kits
| | | |
| --- | --- | --- |
| Description | AL05 | AL10 |
| DOUBLE O-RING KIT – EPDM  | AL05-ORDBL-EP  | AL10-ORDBL-EP  |
| DOUBLE O-RING KIT – EPDM  | AL05-ORDBL-VI  | AL10-ORDBL-VI  |
| | | |
| --- | --- | --- |
| Description | AL15 / AL20 | AL22 / AL25 |
| DOUBLE O-RING KIT – EPDM  | AL15-ORDBL-EP  | AL20-ORDBL-EP  |
| DOUBLE O-RING KIT – EPDM  | AL15-ORDBL-VI  | AL20-ORDBL-VI  |
| | | |
| --- | --- | --- |
| Description | AL33 / AL34 | AL44 / AL46 |
| DOUBLE O-RING KIT – EPDM  | AL30-ORDBL-EP  | AL40-ORDBL-EP  |
| DOUBLE O-RING KIT – EPDM  | AL30-ORDBL-VI  | AL40-ORDBL-VI  |