AMPCO ZP Series Pumps
The ZP1 pump is considered an industry workhorse. With a proven design, the ZP1 is a simple choice, with 9 models to choose from to do the job. It has a large installed base in both sanitary and non-sanitary applications. With seal modifications like the PTFE double-lip seal, the ZP1 is dedicated to the toughest applications. It's also well suited for sanitary industrial and chemical applications, and is commonly used in oil, gas and fracking industries. The ZP1 is versatile, durable and resistant to chemical wear, and also conforms to 3A sanitary standards.
The ZP2 Series has a stainless steel gearcase and is built for Cleaning-in-Place (CIP) ability, with enclosed rotor nuts. It's designed to withstand higher pressures with its large 17-4ph stainless steel shafts. The ZP2 is capable of withstanding pressures of up to 500 PSI and is 3A certified.
Contact Harco for your Ampco ZP1/ZP2 pump or ZP1/ZP2 replacement part inquires.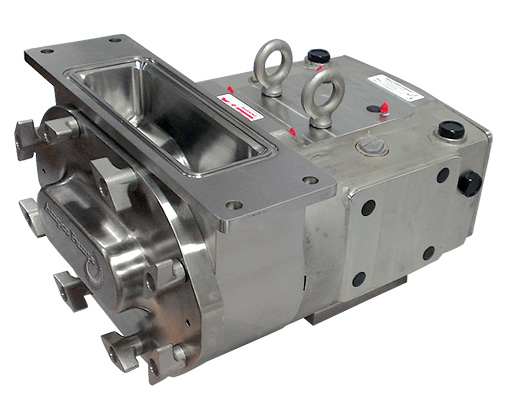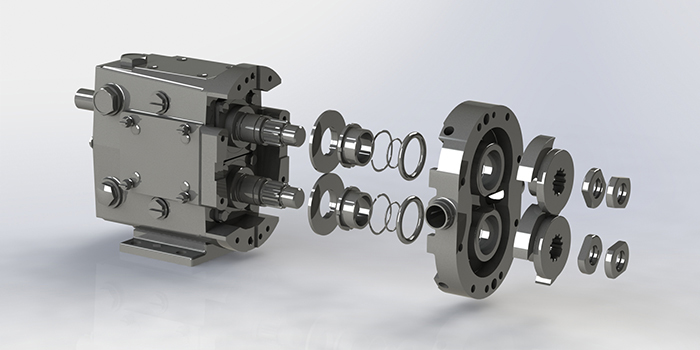 AMPCO ZP3
The patented ZP3 is built for Cleaning-in-Place (CIP), without being modified or losing efficiency. The front-loading seals allow for fast and easy maintenance, without maintenance personnel having to disconnect the pump from piping.
The unique rotor case removes all dead zones within the pump, making the ZP3 the top CIP choice in sanitary positive displacement pumps. The ZP3 is EHEDG-certified and conforms to 3A standards and ATEX Directive.
Front-loading seals are located closer to the product flow, offering improved CIP-ability with no disassembly required.
The ZP3 pump is mounted on a ZP2 gear case, including shafts, to maximize parts interchangeability. Existing ZP2 pumps can upgrade to the ZP3 design with new rotors, seals and re-machining the existing rotor case.
Contact Harco for your Ampco ZP3 pump or ZP3 replacement part inquires.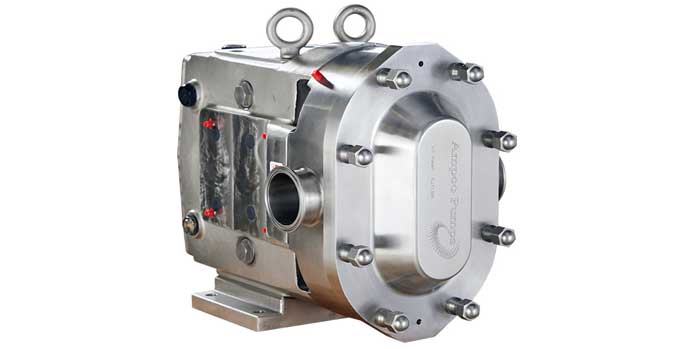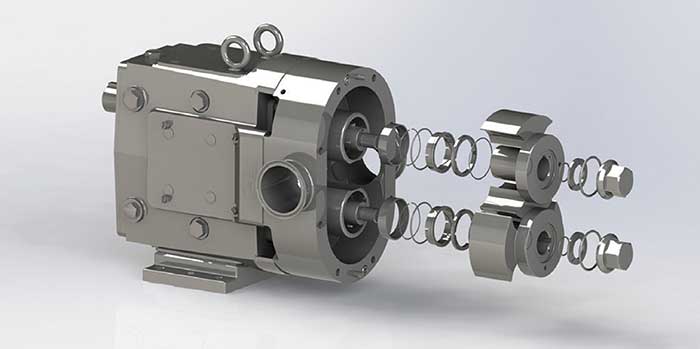 Ampco ZP1 Single and Double O-ring Seal Kits
| | | | | | |
| --- | --- | --- | --- | --- | --- |
| Seal type  | Materials  | Description | ZP1 006/015/018 | ZP1 030/034/040 | ZP1 060/130 |
| Single O-ring seal | Buna | Elastomers Only | P1GX015000-N | P1GX030000-N | P1GX060000-N |
| Single O-ring seal | 17-4 SS/Buna | Sleeves/Elastomers | P1GS01500S-N | P1GS03000S-N | P1GS06000S-N |
| Single O-ring seal | Zirconia/Buna | Sleeves/Elastomers | P1GS01500Z-N | P1GS03000Z-N | P1GS06000Z-N |
| Single O-ring seal | EPDM | Elastomers Only | P1GX015000-E | P1GX030000-E | P1GX060000-E |
| Single O-ring seal | 17-4 SS/EPDM | Sleeves/Elastomers | P1GS01500S-E | P1GS03000S-E | P1GS06000S-E |
| Single O-ring seal | Zirconia/EPDM | Sleeves/Elastomers | P1GS01500Z-E | P1GS03000Z-E | P1GS06000Z-E |
| Single O-ring seal | Viton | Elastomers Only | P1GX015000-V | P1GX030000-V | P1GX060000-V |
| Single O-ring seal | 17-4 SS/Viton | Sleeves/Elastomers | P1GS01500S-V | P1GS03000S-V | P1GS06000S-V |
| Single O-ring seal | Zirconia/Viton | Sleeves/Elastomers | P1GS01500Z-V | P1GS03000Z-V | P1GS06000Z-V |
| Double O-ring seal | Buna | Elastomers Only | P1GX015200-N | P1GX030200-N | P1GX060200-N |
| Double O-ring seal | 17-4 SS/Buna | Sleeves/Elastomers | P1GS01520S-N | P1GS03020S-N | P1GS06020S-N |
| Double O-ring seal | Zirconia/Buna | Sleeves/Elastomers | P1GS01520Z-N | P1GS03020Z-N | P1GS06020Z-N |
| Double O-ring seal | EPDM | Elastomers Only | P1GX015200-E | P1GX030200-E | P1GX060200-E |
| Double O-ring seal | 17-4 SS/EPDM | Sleeves/Elastomers | P1GS01520S-E | P1GS03020S-E | P1GS06020S-E |
| Double O-ring seal | Zirconia/EPDM | Sleeves/Elastomers | P1GS01520Z-E | P1GS03020Z-E | P1GS06020Z-E |
| Double O-ring seal | Viton | Elastomers Only | P1GX015200-V | P1GX030200-V | P1GX060200-V |
| Double O-ring seal | 17-4 SS/Viton | Sleeves/Elastomers | P1GS01520S-V | P1GS03020S-V | P1GS06020S-V |
| Double O-ring seal | Zirconia/Viton | Sleeves/Elastomers | P1GS01520Z-V | P1GS03020Z-V | P1GS06020Z-V |
Mechanical seal replacement kits include: seal faces and O-rings for both shafts and rotors and cover O-ring
| | | | | |
| --- | --- | --- | --- | --- |
| Seal type  | Materials  | Description | ZP1 220 | ZP1 320 |
| Single O-ring seal | Buna | Elastomers Only | P1GX220000-N | N/A |
| Single O-ring seal | 17-4 SS/Buna | Sleeves/Elastomers | P1GS22000S-N | N/A |
| Single O-ring seal | Zirconia/Buna | Sleeves/Elastomers | P1GS22000Z-N | N/A |
| Single O-ring seal | EPDM | Elastomers Only | P1GX220000-E | N/A |
| Single O-ring seal | 17-4 SS/EPDM | Sleeves/Elastomers | P1GS22000S-E | N/A |
| Single O-ring seal | Zirconia/EPDM | Sleeves/Elastomers | P1GS22000Z-E | N/A |
| Single O-ring seal | Viton | Elastomers Only | P1GX220000-V | N/A |
| Single O-ring seal | 17-4 SS/Viton | Sleeves/Elastomers | P1GS22000S-V | N/A |
| Single O-ring seal | Zirconia/Viton | Sleeves/Elastomers | P1GS22000Z-V | N/A |
| Double O-ring seal | Buna | Elastomers Only | P1GX220200-N | N/A |
| Double O-ring seal | 17-4 SS/Buna | Sleeves/Elastomers | P1GS22020S-N | N/A |
| Double O-ring seal | Zirconia/Buna | Sleeves/Elastomers | P1GS22020Z-N | N/A |
| Double O-ring seal | EPDM | Elastomers Only | P1GX220200-E | N/A |
| Double O-ring seal | 17-4 SS/EPDM | Sleeves/Elastomers | P1GS22020S-E | N/A |
| Double O-ring seal | Zirconia/EPDM | Sleeves/Elastomers | P1GS22020Z-E | N/A |
| Double O-ring seal | Viton | Elastomers Only | P1GX220200-V | N/A |
| Double O-ring seal | 17-4 SS/Viton | Sleeves/Elastomers | P1GS22020S-V | N/A |
| Double O-ring seal | Zirconia/Viton | Sleeves/Elastomers | P1GS22020Z-V | N/A |
Mechanical seal replacement kits include: seal faces and O-rings for both shafts and rotors and cover O-ring
Ampco ZP1 Mechanical Seal Kits
| | | | | | |
| --- | --- | --- | --- | --- | --- |
| Seal type  | Materials  | Description | ZP1 006/015/018 | ZP1 030/034/040 | ZP1 060/130 |
| Single Mechanical | Buna | Elastomers Only | P1GX015000-N | P1GX030000-N | P1GX060000-N |
| Single Mechanical | SC / Ca / Buna | Seal Faces / Springs / Elastomers | P1GS015000-N | P1GS030000-N | P1GS060000-N |
| Single Mechanical | Ce / Ca / Buna | Seal Faces / Springs / Elastomers | P1GS015020-N | P1GS030020-N | P1GS060020-N |
| Single Mechanical | Ce / Ce / Buna | Seal Faces / Springs / Elastomers | P1GS015030-N | P1GS030030-N | P1GS060030-N |
| Single Mechanical | SC / SC / Buna | Seal Faces / Springs / Elastomers | P1GS015010-N | P1GS030010-N | P1GS060010-N |
| Single Mechanical | EPDM | Elastomers Only | P1GX015000-E | P1GX030000-E | P1GX060000-E |
| Single Mechanical | SC / Ca / EPDM | Seal Faces / Springs / Elastomers | P1GS015000-E | P1GS030000-E | P1GS060000-E |
| Single Mechanical | Ce / Ca / EPDM | Seal Faces / Springs / Elastomers | P1GS015020-E | P1GS030020-E | P1GS060020-E |
| Single Mechanical | Ce / Ce / EPDM | Seal Faces / Springs / Elastomers | P1GS015030-E | P1GS030030-E | P1GS060030-E |
| Single Mechanical | SC / SC / EPDM | Seal Faces / Springs / Elastomers | P1GS015010-E | P1GS030010-E | P1GS060010-E |
| Single Mechanical | Viton | Elastomers Only | P1GX015000-V | P1GX030000-V | P1GX060000-V |
| Single Mechanical | SC / Ca / Viton | Seal Faces / Springs / Elastomers | P1GS015000-V | P1GS030000-V | P1GS060000-V |
| Single Mechanical | Ce / Ca / Viton | Seal Faces / Springs / Elastomers | P1GS015020-V | P1GS030020-V | P1GS060020-V |
| Single Mechanical | Ce / Ce / Viton | Seal Faces / Springs / Elastomers | P1GS015030-V | P1GS030030-V | P1GS060030-V |
| Single Mechanical | SC / SC / Viton | Seal Faces / Springs / Elastomers | P1GS015010-V | P1GS030010-V | P1GS060010-V |
| Double Mechanical | Buna | Elastomers Only | P1GX015200-N | P1GX030200-N | P1GX060200-N |
| Double Mechanical | SC / Ca / Ca / Buna | Seal Faces / Springs / Elastomers | P1GS015200-N | P1GS030200-N | P1GS060200-N |
| Double Mechanical | Ce / Ca / Ca / Buna | Seal Faces / Springs / Elastomers | P1GS015220-N | P1GS030220-N | P1GS060220-N |
| Double Mechanical | Ce / Ce / Ca / Buna | Seal Faces / Springs / Elastomers | P1GS015230-N | P1GS030230-N | P1GS060230-N |
| Double Mechanical | SC / SC / Ca / Buna | Seal Faces / Springs / Elastomers | P1GS015210-N | P1GS030210-N | P1GS060210-N |
| Double Mechanical | EPDM | Elastomers Only | P1GX015200-E | P1GX030200-E | P1GX060200-E |
| Double Mechanical | SC / Ca / Ca / EPDM | Seal Faces / Springs / Elastomers | P1GS015200-E | P1GS030200-E | P1GS060200-E |
| Double Mechanical | Ce / Ca / Ca / EPDM | Seal Faces / Springs / Elastomers | P1GS015220-E | P1GS030220-E | P1GS060220-E |
| Double Mechanical | Ce / Ce / Ca / EPDM | Seal Faces / Springs / Elastomers | P1GS015230-E | P1GS030230-E | P1GS060230-E |
| Double Mechanical | SC / SC / Ca / EPDM | Seal Faces / Springs / Elastomers | P1GS015210-E | P1GS030210-E | P1GS060210-E |
| Double Mechanical | Viton | Elastomers Only | P1GX015200-V | P1GX030200-V | P1GX060200-V |
| Double Mechanical | SC / Ca / Ca / Viton | Seal Faces / Springs / Elastomers | P1GS015200-V | P1GS030200-V | P1GS060200-V |
| Double Mechanical | Ce / Ca / Ca / Viton | Seal Faces / Springs / Elastomers | P1GS015220-V | P1GS030220-V | P1GS060220-V |
| Double Mechanical | Ce / Ce / Ca / Viton | Seal Faces / Springs / Elastomers | P1GS015230-V | P1GS030230-V | P1GS060230-V |
| Double Mechanical | SC / SC / Ca / Viton | Seal Faces / Springs / Elastomers | P1GS015210-V | P1GS030210-V | P1GS060210-V |
Mechanical seal replacement kits include: seal faces and O-rings for both shafts and rotors and cover O-ring
| | | | | |
| --- | --- | --- | --- | --- |
| Seal type  | Materials  | Description | ZP1 220 | ZP1 320 |
| Single Mechanical | Buna | Elastomers Only | P1GX220000-N | P1GX320000-N |
| Single Mechanical | SC / Ca / Buna | Seal Faces / Springs / Elastomers | P1GS220000-N | P1GS320000-N |
| Single Mechanical | Ce / Ca / Buna | Seal Faces / Springs / Elastomers | P1GS220020-N | N/A |
| Single Mechanical | Ce / Ce / Buna | Seal Faces / Springs / Elastomers | P1GS220030-N | N/A |
| Single Mechanical | SC / SC / Buna | Seal Faces / Springs / Elastomers | P1GS220010-N | P1GS320010-N |
| Single Mechanical | EPDM | Elastomers Only | P1GX220000-E | P1GX320000-E |
| Single Mechanical | SC / Ca / EPDM | Seal Faces / Springs / Elastomers | P1GS220000-E | P1GS320000-E |
| Single Mechanical | Ce / Ca / EPDM | Seal Faces / Springs / Elastomers | P1GS220020-E | N/A |
| Single Mechanical | Ce / Ce / EPDM | Seal Faces / Springs / Elastomers | P1GS220030-E | N/A |
| Single Mechanical | SC / SC / EPDM | Seal Faces / Springs / Elastomers | P1GS220010-E | P1GS320010-E |
| Single Mechanical | Viton | Elastomers Only | P1GX220000-V | P1GX320000-V |
| Single Mechanical | SC / Ca / Viton | Seal Faces / Springs / Elastomers | P1GS220000-V | P1GS320000-V |
| Single Mechanical | Ce / Ca / Viton | Seal Faces / Springs / Elastomers | P1GS220020-V | N/A |
| Single Mechanical | Ce / Ce / Viton | Seal Faces / Springs / Elastomers | P1GS220030-V | N/A |
| Single Mechanical | SC / SC / Viton | Seal Faces / Springs / Elastomers | P1GS220010-V | P1GS320010-V |
| Double Mechanical | Buna | Elastomers Only | P1GX220200-N | P1GX320200-N |
| Double Mechanical | SC / Ca / Ca / Buna | Seal Faces / Springs / Elastomers | P1GS220200-N | P1GS320200-N |
| Double Mechanical | Ce / Ca / Ca / Buna | Seal Faces / Springs / Elastomers | P1GS220220-N | N/A |
| Double Mechanical | Ce / Ce / Ca / Buna | Seal Faces / Springs / Elastomers | P1GS220230-N | N/A |
| Double Mechanical | SC / SC / Ca / Buna | Seal Faces / Springs / Elastomers | P1GS220210-N | P1GS320210-N |
| Double Mechanical | EPDM | Elastomers Only | P1GX220200-E | P1GX320200-E |
| Double Mechanical | SC / Ca / Ca / EPDM | Seal Faces / Springs / Elastomers | P1GS220200-E | P1GS320200-E |
| Double Mechanical | Ce / Ca / Ca / EPDM | Seal Faces / Springs / Elastomers | P1GS220220-E | N/A |
| Double Mechanical | Ce / Ce / Ca / EPDM | Seal Faces / Springs / Elastomers | P1GS220230-E | N/A |
| Double Mechanical | SC / SC / Ca / EPDM | Seal Faces / Springs / Elastomers | P1GS220210-E | P1GS320210-E |
| Double Mechanical | Viton | Elastomers Only | P1GX220200-V | P1GX320200-V |
| Double Mechanical | SC / Ca / Ca / Viton | Seal Faces / Springs / Elastomers | P1GS220200-V | P1GS320200-V |
| Double Mechanical | Ce / Ca / Ca / Viton | Seal Faces / Springs / Elastomers | P1GS220220-V | N/A |
| Double Mechanical | Ce / Ce / Ca / Viton | Seal Faces / Springs / Elastomers | P1GS220230-V | N/A |
| Double Mechanical | SC / SC / Ca / Viton | Seal Faces / Springs / Elastomers | P1GS220210-V | P1GS320210-V |
Mechanical seal replacement kits include: seal faces and O-rings for both shafts and rotors and cover O-ring
Ampco ZP2 Single Mechanical Seal Kits
| | | | | | |
| --- | --- | --- | --- | --- | --- |
| Seal type | Materials | Description | ZP2 006/015/018 | ZP2 030/034/040 | ZP2 45/60/130/134 |
| Single Mechanical | Buna | Elastomers Only | P2GX015000-N | P2GX030000-N | P2GX060000-N |
| Single Mechanical | SC / Ca / Buna | Seal Faces / Springs / Elastomers | P2GS015000-N | P2GS030000-N | P2GS060000-N |
| Single Mechanical | Ce / Ca / Buna | Seal Faces / Springs / Elastomers | P2GS015020-N | P2GS030020-N | P2GS060020-N |
| Single Mechanical | Ce / Ce / Buna | Seal Faces / Springs / Elastomers | P2GS015030-N | P2GS030030-N | P2GS060030-N |
| Single Mechanical | SC / SC / Buna | Seal Faces / Springs / Elastomers | P2GS015010-N | P2GS030010-N | P2GS060010-N |
| Single Mechanical | EPDM | Elastomers Only | P2GX015000-E | P2GX030000-E | P2GX060000-E |
| Single Mechanical | SC / Ca / EPDM | Seal Faces / Springs / Elastomers | P2GS015000-E | P2GS030000-E | P2GS060000-E |
| Single Mechanical | Ce / Ca / EPDM | Seal Faces / Springs / Elastomers | P2GS015020-E | P2GS030020-E | P2GS060020-E |
| Single Mechanical | Ce / Ce / EPDM | Seal Faces / Springs / Elastomers | P2GS015030-E | P2GS030030-E | P2GS060030-E |
| Single Mechanical | SC / SC / EPDM | Seal Faces / Springs / Elastomers | P2GS015010-E | P2GS030010-E | P2GS060010-E |
| Single Mechanical | Viton | Elastomers Only | P2GX015000-V | P2GX030000-V | P2GX060000-V |
| Single Mechanical | SC / Ca / Viton | Seal Faces / Springs / Elastomers | P2GS015000-V | P2GS030000-V | P2GS060000-V |
| Single Mechanical | Ce / Ca / Viton | Seal Faces / Springs / Elastomers | P2GS015020-V | P2GS030020-V | P2GS060020-V |
| Single Mechanical | Ce / Ce / Viton | Seal Faces / Springs / Elastomers | P2GS015030-V | P2GS030030-V | P2GS060030-V |
| Single Mechanical | SC / SC / Viton | Seal Faces / Springs / Elastomers | P2GS015010-V | P2GS030010-V | P2GS060010-V |
Mechanical seal replacement kits include: seal faces and O-rings for both shafts and rotors and cover O-ring
| | | | | | |
| --- | --- | --- | --- | --- | --- |
| Seal type | Materials | Description | ZP2 180/220/224 | ZP2 210/214 | ZP2 320 |
| Single Mechanical | Buna | Elastomers Only | P2GX220000-N | P2GX210000-N | P2GX320000-N |
| Single Mechanical | SC / Ca / Buna | Seal Faces / Springs / Elastomers | P2GS220000-N | P2GS210000-N | P2GS320000-N |
| Single Mechanical | Ce / Ca / Buna | Seal Faces / Springs / Elastomers | P2GS220020-N | P2GS210020-N | P2GS320020-N |
| Single Mechanical | Ce / Ce / Buna | Seal Faces / Springs / Elastomers | P2GS220030-N | P2GS210030-N | P2GS320030-N |
| Single Mechanical | SC / SC / Buna | Seal Faces / Springs / Elastomers | P2GS220010-N | P2GS210010-N | P2GS320010-N |
| Single Mechanical | EPDM | Elastomers Only | P2GX220000-E | P2GX210000-E | P2GX320000-E |
| Single Mechanical | SC / Ca / EPDM | Seal Faces / Springs / Elastomers | P2GS220000-E | P2GS210000-E | P2GS320000-E |
| Single Mechanical | Ce / Ca / EPDM | Seal Faces / Springs / Elastomers | P2GS220020-E | P2GS210020-E | P2GS320020-E |
| Single Mechanical | Ce / Ce / EPDM | Seal Faces / Springs / Elastomers | P2GS220030-E | P2GS210030-E | P2GS320030-E |
| Single Mechanical | SC / SC / EPDM | Seal Faces / Springs / Elastomers | P2GS220010-E | P2GS210010-E | P2GS320010-E |
| Single Mechanical | Viton | Elastomers Only | P2GX220000-V | P2GX210000-V | P2GX320000-V |
| Single Mechanical | SC / Ca / Viton | Seal Faces / Springs / Elastomers | P2GS220000-V | P2GS210000-V | P2GS320000-V |
| Single Mechanical | Ce / Ca / Viton | Seal Faces / Springs / Elastomers | P2GS220020-V | P2GS210020-V | P2GS320020-V |
| Single Mechanical | Ce / Ce / Viton | Seal Faces / Springs / Elastomers | P2GS220030-V | P2GS210030-V | P2GS320030-V |
| Single Mechanical | SC / SC / Viton | Seal Faces / Springs / Elastomers | P2GS220010-V | P2GS210010-V | P2GS320010-V |
Mechanical seal replacement kits include: seal faces and O-rings for both shafts and rotors and cover O-ring
Ampco ZP2 Double Mechanical Seal Kits
| | | | | | |
| --- | --- | --- | --- | --- | --- |
| Seal type | Materials | Description | ZP2 006/015/018 | ZP2 030/034/040 | ZP2 45/60/130/134 |
| Double  Mechanical | Buna | Elastomers Only | P2GX015200-N | P2GX030200-N | P2GX060200-N |
| Double  Mechanical | SC / Ca / Ca / Buna | Seal Faces / Springs / Elastomers | P2GS015200-N | P2GS030200-N | P2GS060200-N |
| Double  Mechanical | Ce / Ca / Ca / Buna | Seal Faces / Springs / Elastomers | P2GS015220-N | P2GS030220-N | P2GS060220-N |
| Double  Mechanical | Ce / Ce / Ca / Buna | Seal Faces / Springs / Elastomers | P2GS015230-N | P2GS030230-N | P2GS060230-N |
| Double  Mechanical | SC / SC / Ca / Buna | Seal Faces / Springs / Elastomers | P2GS015210-N | P2GS030210-N | P2GS060210-N |
| Double  Mechanical | EPDM | Elastomers Only | P2GX015200-E | P2GX030200-E | P2GX060200-E |
| Double  Mechanical | SC / Ca / Ca / EPDM | Seal Faces / Springs / Elastomers | P2GS015200-E | P2GS030200-E | P2GS060200-E |
| Double  Mechanical | Ce / Ca / Ca / EPDM | Seal Faces / Springs / Elastomers | P2GS015220-E | P2GS030220-E | P2GS060220-E |
| Double  Mechanical | Ce / Ce / Ca / EPDM | Seal Faces / Springs / Elastomers | P2GS015230-E | P2GS030230-E | P2GS060230-E |
| Double  Mechanical | SC / SC / Ca / EPDM | Seal Faces / Springs / Elastomers | P2GS015210-E | P2GS030210-E | P2GS060210-E |
| Double  Mechanical | Viton | Elastomers Only | P2GX015200-V | P2GX030200-V | P2GX060200-V |
| Double  Mechanical | SC / Ca / Ca / Viton | Seal Faces / Springs / Elastomers | P2GS015200-V | P2GS030200-V | P2GS060200-V |
| Double  Mechanical | Ce / Ca / Ca / Viton | Seal Faces / Springs / Elastomers | P2GS015220-V | P2GS030220-V | P2GS060220-V |
| Double  Mechanical | Ce / Ce / Ca / Viton | Seal Faces / Springs / Elastomers | P2GS015230-V | P2GS030230-V | P2GS060230-V |
| Double  Mechanical | SC / SC / Ca / Viton | Seal Faces / Springs / Elastomers | P2GS015210-V | P2GS030210-V | P2GS060210-V |
Mechanical seal replacement kits include: seal faces and O-rings for both shafts and rotors and cover O-ring
| | | | | | |
| --- | --- | --- | --- | --- | --- |
| Seal type | Materials | Description | ZP2 180/220/224 | ZP2 210/214 | ZP2 320 |
| Double  Mechanical | Buna | Elastomers Only | P2GX220200-N | P2GX210200-N | P2GX320200-N |
| Double  Mechanical | SC / Ca / Ca / Buna | Seal Faces / Springs / Elastomers | P2GS220200-N | P2GS210200-N | P2GS320200-N |
| Double  Mechanical | Ce / Ca / Ca / Buna | Seal Faces / Springs / Elastomers | P2GS220220-N | P2GS210220-N | P2GS320220-N |
| Double  Mechanical | Ce / Ce / Ca / Buna | Seal Faces / Springs / Elastomers | P2GS220230-N | P2GS210230-N | P2GS320230-N |
| Double  Mechanical | SC / SC / Ca / Buna | Seal Faces / Springs / Elastomers | P2GS220210-N | P2GS210210-N | P2GS320210-N |
| Double  Mechanical | EPDM | Elastomers Only | P2GX220200-E | P2GX210200-E | P2GX320200-E |
| Double  Mechanical | SC / Ca / Ca / EPDM | Seal Faces / Springs / Elastomers | P2GS220200-E | P2GS210200-E | P2GS320200-E |
| Double  Mechanical | Ce / Ca / Ca / EPDM | Seal Faces / Springs / Elastomers | P2GS220220-E | P2GS210220-E | P2GS320220-E |
| Double  Mechanical | Ce / Ce / Ca / EPDM | Seal Faces / Springs / Elastomers | P2GS220230-E | P2GS210230-E | P2GS320230-E |
| Double  Mechanical | SC / SC / Ca / EPDM | Seal Faces / Springs / Elastomers | P2GS220210-E | P2GS210210-E | P2GS320210-E |
| Double  Mechanical | Viton | Elastomers Only | P2GX220200-V | P2GX210200-V | P2GX320200-V |
| Double  Mechanical | SC / Ca / Ca / Viton | Seal Faces / Springs / Elastomers | P2GS220200-V | P2GS210200-V | P2GS320200-V |
| Double  Mechanical | Ce / Ca / Ca / Viton | Seal Faces / Springs / Elastomers | P2GS220220-V | P2GS210220-V | P2GS320220-V |
| Double  Mechanical | Ce / Ce / Ca / Viton | Seal Faces / Springs / Elastomers | P2GS220230-V | P2GS210230-V | P2GS320230-V |
| Double  Mechanical | SC / SC / Ca / Viton | Seal Faces / Springs / Elastomers | P2GS220210-V | P2GS210210-V | P2GS320210-V |
Mechanical seal replacement kits include: seal faces and O-rings for both shafts and rotors and cover O-ring
Ampco ZP3 Single Mechanical Seal Kits
| | | | | | |
| --- | --- | --- | --- | --- | --- |
| Seal type  | Materials  | Description | ZP3 006/015/018 | ZP3 030/034/040 | ZP3 060/130 |
| Single Mechanical | Buna | Elastomers Only | P3GX015000-N | P3GX030000-N | P3GX060000-N |
| Single Mechanical | Buna & PTFE | Elastomers Only | P3GX015000-SEN | P3GX030000-SEN | P3GX060000-SEN |
| Single Mechanical | TC / SC / Buna | Seal Faces / Springs / Elastomers | P3GS015000-N | P3GS030000-N | P3GS060000-N |
| Single Mechanical | TC / SC / Buna & PTFE | Seal Faces / Springs / Elastomers | P3GS015000-SEN | P3GS030000-SEN | P3GS060000-SEN |
| Single Mechanical | EPDM | Elastomers Only | P3GX015000-E | P3GX030000-E | P3GX060000-E |
| Single Mechanical | EPDM & PTFE | Elastomers Only | P3GX015000-SEE | P3GX030000-SEE | P3GX060000-SEE |
| Single Mechanical | TC / SC / EPDM | Seal Faces / Springs / Elastomers | P3GS015000-E | P3GS030000-E | P3GS060000-E |
| Single Mechanical | TC / SC / EPDM & PTFE | Seal Faces / Springs / Elastomers | P3GS015000-SEE | P3GS030000-SEE | P3GS060000-SEE |
| Single Mechanical | Viton | Elastomers Only | P3GX015000-V | P3GX030000-V | P3GX060000-V |
| Single Mechanical | Viton & PTFE | Elastomers Only | P3GX015000-SEV | P3GX030000-SEV | P3GX060000-SEV |
| Single Mechanical | TC / SC / Viton | Seal Faces / Springs / Elastomers | P3GS015000-V | P3GS030000-V | P3GS060000-V |
| Single Mechanical | TC / SC / Viton & PTFE | Seal Faces / Springs / Elastomers | P3GS015000-SEV | P3GS030000-SEV | P3GS060000-SEV |
Mechanical seal replacement kits include: seal faces and O-rings for both shafts and rotors and cover O-ring*
| | | | | | |
| --- | --- | --- | --- | --- | --- |
| Seal type  | Materials  | Description | ZP3 180/220 | ZP3 210/214 | ZP3 320 |
| Single Mechanical | Buna | Elastomers Only | P3GX220000-N | P3GX210000-N | P3GX320000-N |
| Single Mechanical | Buna & PTFE | Elastomers Only | P3GX220000-SEN | P3GX210000-SEN | P3GX320000-SEN |
| Single Mechanical | TC / SC / Buna | Seal Faces / Springs / Elastomers | P3GS220000-N | P3GS210000-N | P3GS320000-N |
| Single Mechanical | TC / SC / Buna & PTFE | Seal Faces / Springs / Elastomers | P3GS220000-SEN | P3GS210000-SEN | P3GS320000-SEN |
| Single Mechanical | EPDM | Elastomers Only | P3GX220000-E | P3GX210000-E | P3GX320000-E |
| Single Mechanical | EPDM & PTFE | Elastomers Only | P3GX220000-SEE | P3GX210000-SEE | P3GX320000-SEE |
| Single Mechanical | TC / SC / EPDM | Seal Faces / Springs / Elastomers | P3GS220000-E | P3GS210000-E | P3GS320000-E |
| Single Mechanical | TC / SC / EPDM & PTFE | Seal Faces / Springs / Elastomers | P3GS220000-SEE | P3GS210000-SEE | P3GS320000-SEE |
| Single Mechanical | Viton | Elastomers Only | P3GX220000-V | P3GX210000-V | P3GX320000-V |
| Single Mechanical | Viton & PTFE | Elastomers Only | P3GX220000-SEV | P3GX210000-SEV | P3GX320000-SEV |
| Single Mechanical | TC / SC / Viton | Seal Faces / Springs / Elastomers | P3GS220000-V | P3GS210000-V | P3GS320000-V |
| Single Mechanical | TC / SC / Viton & PTFE | Seal Faces / Springs / Elastomers | P3GS220000-SEV | P3GS210000-SEV | P3GS320000-SEV |
Mechanical seal replacement kits include: seal faces and O-rings for both shafts and rotors and cover O-ring*
Ampco ZP3 Double Mechanical Seal Kits
| | | | | | |
| --- | --- | --- | --- | --- | --- |
| Seal type  | Materials  | Description | ZP3 006/015/018 | ZP3 030/034/040 | ZP3 060/130 |
| Double  Mechanical | Buna | Elastomers Only | P3GX015200-N | P3GX030200-N | P3GX060200-N |
| Double  Mechanical | Buna & PTFE | Elastomers Only | P3GX015200-SEN | P3GX030200-SEN | P3GX060200-SEN |
| Double  Mechanical | TC / SC -CE /CA / Buna | Seal Faces / Springs / Elastomers | P3GS015200-N | P3GS030200-N | P3GS060200-N |
| Double  Mechanical | TC / SC -CE / CA Buna & PTFE | Seal Faces / Springs / Elastomers | P3GS015200-SEN | P3GS030200-SEN | P3GS060200-SEN |
| Double  Mechanical | TC / SC -SC /CA / Buna | Seal Faces / Springs / Elastomers | P3GS015210-N | P3GS030210-N | P3GS060210-N |
| Double  Mechanical | TC / SC -SC / CA Buna & PTFE | Seal Faces / Springs / Elastomers | P3GS015210-SEN | P3GS030210-SEN | P3GS060210-SEN |
| Double  Mechanical | EPDM | Elastomers Only | P3GX015200-E | P3GX030200-E | P3GX060200-E |
| Double  Mechanical | EPDM & PTFE | Elastomers Only | P3GX015200-SEE | P3GX030200-SEE | P3GX060200-SEE |
| Double  Mechanical | TC / SC -CE /CA / EPDM | Seal Faces / Springs / Elastomers | P3GS015200-E | P3GS030200-E | P3GS060200-E |
| Double  Mechanical | TC / SC -CE / CA EPDM & PTFE | Seal Faces / Springs / Elastomers | P3GS015200-SEE | P3GS030200-SEE | P3GS060200-SEE |
| Double  Mechanical | TC / SC -SC /CA / EPDM | Seal Faces / Springs / Elastomers | P3GS015210-E | P3GS030210-E | P3GS060210-E |
| Double  Mechanical | TC / SC -SC / CA EPDM & PTFE | Seal Faces / Springs / Elastomers | P3GS015210-SEE | P3GS030210-SEE | P3GS060210-SEE |
| Double  Mechanical | Viton | Elastomers Only | P3GX015200-V | P3GX030200-V | P3GX060200-V |
| Double  Mechanical | Viton & PTFE | Elastomers Only | P3GX015200-SEV | P3GX030200-SEV | P3GX060200-SEV |
| Double  Mechanical | TC / SC -CE /CA / Viton | Seal Faces / Springs / Elastomers | P3GS015200-V | P3GS030200-V | P3GS060200-V |
| Double  Mechanical | TC / SC -CE / CA Viton & PTFE | Seal Faces / Springs / Elastomers | P3GS015200-SEV | P3GS030200-SEV | P3GS060200-SEV |
| Double  Mechanical | TC / SC -SC /CA / Viton | Seal Faces / Springs / Elastomers | P3GS015210-V | P3GS030210-V | P3GS060210-V |
| Double  Mechanical | TC / SC -SC / CA Viton & PTFE | Seal Faces / Springs / Elastomers | P3GS015210-SEV | P3GS030210-SEV | P3GS060210-SEV |
Mechanical seal replacement kits include: seal faces and O-rings for both shafts and rotors and cover O-ring*
| | | | | | |
| --- | --- | --- | --- | --- | --- |
| Seal type  | Materials  | Description | ZP3 180/220 | ZP3 210/214 | ZP3 320 |
| Double  Mechanical | Buna | Elastomers Only | P3GX220200-N | P3GX210200-N | P3GX320200-N |
| Double  Mechanical | Buna & PTFE | Elastomers Only | P3GX220200-SEN | P3GX210200-SEN | P3GX320200-SEN |
| Double  Mechanical | TC / SC -CE /CA / Buna | Seal Faces / Springs / Elastomers | P3GS220200-N | P3GS210200-N | P3GS320200-N |
| Double  Mechanical | TC / SC -CE / CA Buna & PTFE | Seal Faces / Springs / Elastomers | P3GS220200-SEN | P3GS210200-SEN | P3GS320200-SEN |
| Double  Mechanical | TC / SC -SC /CA / Buna | Seal Faces / Springs / Elastomers | P3GS220210-N | P3GS210210-N | P3GS320210-N |
| Double  Mechanical | TC / SC -SC / CA Buna & PTFE | Seal Faces / Springs / Elastomers | P3GS220210-SEN | P3GS210210-SEN | P3GS320210-SEN |
| Double  Mechanical | EPDM | Elastomers Only | P3GX220200-E | P3GX210200-E | P3GX320200-E |
| Double  Mechanical | EPDM & PTFE | Elastomers Only | P3GX220200-SEE | P3GX210200-SEE | P3GX320200-SEE |
| Double  Mechanical | TC / SC -CE /CA / EPDM | Seal Faces / Springs / Elastomers | P3GS220200-E | P3GS210200-E | P3GS320200-E |
| Double  Mechanical | TC / SC -CE / CA EPDM & PTFE | Seal Faces / Springs / Elastomers | P3GS220200-SEE | P3GS210200-SEE | P3GS320200-SEE |
| Double  Mechanical | TC / SC -SC /CA / EPDM | Seal Faces / Springs / Elastomers | P3GS220210-E | P3GS210210-E | P3GS320210-E |
| Double  Mechanical | TC / SC -SC / CA EPDM & PTFE | Seal Faces / Springs / Elastomers | P3GS220210-SEE | P3GS210210-SEE | P3GS320210-SEE |
| Double  Mechanical | Viton | Elastomers Only | P3GX220200-V | P3GX210200-V | P3GX320200-V |
| Double  Mechanical | Viton & PTFE | Elastomers Only | P3GX220200-SEV | P3GX210200-SEV | P3GX320200-SEV |
| Double  Mechanical | TC / SC -CE /CA / Viton | Seal Faces / Springs / Elastomers | P3GS220200-V | P3GS210200-V | P3GS320200-V |
| Double  Mechanical | TC / SC -CE / CA Viton & PTFE | Seal Faces / Springs / Elastomers | P3GS220200-SEV | P3GS210200-SEV | P3GS320200-SEV |
| Double  Mechanical | TC / SC -SC /CA / Viton | Seal Faces / Springs / Elastomers | P3GS220210-V | P3GS210210-V | P3GS320210-V |
| Double  Mechanical | TC / SC -SC / CA Viton & PTFE | Seal Faces / Springs / Elastomers | P3GS220210-SEV | P3GS210210-SEV | P3GS320210-SEV |
Mechanical seal replacement kits include: seal faces and O-rings for both shafts and rotors and cover O-ring*