BINEM Drum Unloading Systems

Reduce Waste & Downtime, Increase Efficiency
The BINEM Drum Unloading System was designed to maximize hygienic processing while reducing waste by utilizing a Bornemann twin screw pump. This technology delivers optimal performance and efficiencies compared to traditional air-operated drum unloading equipment.
Customizable dosing capabilities ensure consistency for every batch and safeguard remaining product from unsanitary exposure between uses. The BINEM Drum Unloading System easily pairs with control devices so you can pump in precise amounts of tomato paste, meat paste, chocolate spread, cookie filling, peanut butter and more.
Highly viscous products and those that are not self-leveling are perfect for the BINEM Drum Unloading System. This is due to the unique follower plate and inflatable rubber wiper design. Together, they deliver optimal performance and efficiency compared to traditional drum pumps and suction wands.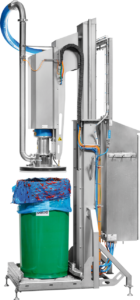 To make sure your lines remain up and running with minimal downtime, the BINEM Drum Unloading System is built for quick changeover. The one single pneumatic cylinder lifts the pump while a swing arm unit rapidly removes and replaces up to four drums per pallet. The lifting cylinder is also hygienically housed in the guiding system, and the follower plate can be effortlessly dismantled for quick and hygienic cleaning in place.
Pump Unloading System Standard Features:

Powered by a Bornemann twin screw pump
Designed for highly vicious and not self-leveling products
Multiple options for drum size/handling
Pairs with control devices for batch dosing
CIP-able
Meets strict hygienic requirements
Specifications:
Pressure:  362 PSI Max
Product Flow Rate:  Up to 53 gpm
Viscosity:  Up to 1,000,000 cP
Product Temperature: Max 212°F