ALFA LAVAL UNIQUE DV-ST ULTRAPURE DIAPHRAGM VALVES​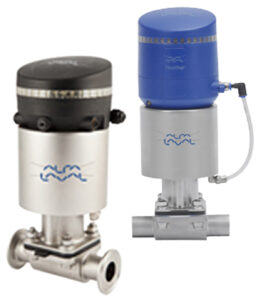 Harco offers Alfa Laval Unique DV-ST UltraPure Diaphragm Valves that meet the requirements of most sterile and ultra-hygienic processes. With a fully modular design and enhanced compatibility, These DV-ST UltraPure diaphragm valves from Alfa Laval offer solutions for all hygienic industries. Their customizability allows you to create a complete valve system to meet virtually any demand in the pharmaceutical and biotech industry.
Alfa Laval's Unique DV-ST UltraPure Diaphragm Valves have two modes of operation: manual operation by means of a handle and pneumatic operation by means of a pneumatic actuator. For manual operation, a simple turn of the handle lifts the compressor upwards, moving the diaphragm away from the weir of the valve body thereby opening the valve. Turning the handle in the opposite direction pushes the compressor downwards onto the diaphragm, pressing the diaphragm against the weir of the valve body, thereby closing the valve.
For pneumatic operation, the pneumatic actuator controls the axial movement of a piston, thereby opening or closing the valve depending on the actuator function.
The Alfa Laval DV-ST UltraPure diaphragm valve bodies are available in cast, forged, and block options to suit the most demanding applications. A choice of surface finishes and connection types are also available. For critical applications with corrosive media Alfa Laval can offer special alloy options in block design including Hastelloy, duplex, and AL-6XN materials.
Valve Body Design
The valve bodies are available in a wide variety of valve types and configuration options (dimension standards, connections, surface finish and material).
2-waybody
T-body (Zero dead-leg design)
Tank outlet body
Tandem body
Multi-port body
All UltraPure valves are delivered with Alfa Laval's comprehensive Q-Doc documentation package, which includes:
3.1/ MTR traceability certificate corresponding to EN 10204
FDA – Declaration of conformity to FDA (CFR 21: 177.2600 or 177.1550)
USP-Certificate of conformity to USP Class VI (Chapter 88, biological reactivity test)
TSE/ADI -Declaration (Transmissible Spongiform Encephalopathy/Animal Derived Ingredients)
Surface finish conformity declaration
The following documentation is available upon request:
Surface finish certificate (Ra test results)
ATE certificate
Alfa Laval Unique DV-P UltraPure - Diaphragm Set
| | | | | | |
| --- | --- | --- | --- | --- | --- |
| Description | 1/2″ | 3/4″ | 1″ | 1.5″ | 2″ |
| Diaphragm Set, EPDM (incl. Q-doc) | 9615022401 | 9615022402 | 9615022403 | 9615022404 | 9615022405 |
| Diaphragm Set, PTFE/EPDM (incl. Q-doc) | 9615022406 | 9615022407 | 9615022408 | 9615022409 | 9615022410 |
Click the links below to browse our selection of diaphragm valves.