Alfa Laval Unique RV-ST Valves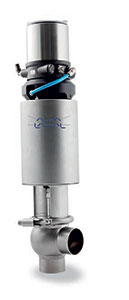 Alfa Laval's unique RV-ST is an intelligent hygienic regulating valve that safely and effectively controls process flows with Kv values between 9 and 246 m3/hour. It's designed for a wide range of fluid-handling duties, such as metering, blending, weighing and filling system duties, in the food and beverage, brewery, biotech and pharmaceutical and chemicals industries.
Corrosion-free features, such as tapered stainless steel stems, ensure product safety according to EHEDG guidelines. With a push of a button, the RV-ST regulating valve automatically calibrates itself so that it's fully operational.
Built on the proven single seat valve platform, which has an installed base of more than one million valves, the RV-ST UltraPure offers the same reliability, safety and ease of maintenance. Its offers protection class IP65 and IP67 for tough process environments.
It uses the same few moveable components, spare parts and maintenance tools and procedures as unique SSV valves. Using the upgrade kit available, it's possible to upgrade older regulating valves with the new control unit. The new control unit also supports rebuild of the actuator from NC (Normally Closed) to NO (Normally Open) and vice versa.
Click the links below to browse our range of Regulating Valves.