Alfa Laval Unique Sampling Valves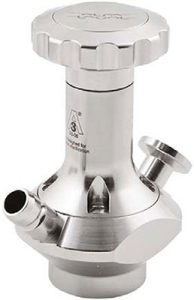 With Alfa Laval's Unique Sampling valves, you can take representative samples in a variety of hygienic processes within the food, beverage, pharmaceutical, cosmetic or biotechnology processing industries.
These reliable single and double-seat valves from Alfa Laval provide the high accuracy, exceptional reproducibility and excellent reliability required for high quality, cost-effective sampling. The ergonomically-designed handle ensures exceptional control and convenience during operation.
The Alfa Laval Unique Sampling valves are available as single- and double-seat with working pressures up to 6 bar and maximum temperatures of 130°C. Membrane seals are made of FDA-approved EPDM or silicone. Choice of manual or pneumatic actuators is available. Other options include types of valve bodies, connections, actuators and accessories.
for more information on the Single Seat Valve.
for more information on the Double Seat Valve.
Click the links below to browse our selection of sampling valves.