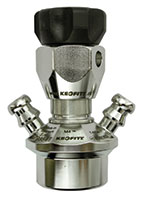 KEOFITT SAMPLING VALVES
The Keofitt sampling valves are designed for steam sterilization before and after each sampling. This Keofitt sampling valve consists of three parts, a valve body, a valve head and a membrane. The rubber membrane is placed on the stem of the valve head and works as a stretchable plug. The valve bodies and valve heads are interchangeable.
Click the links below to browse our selection of sampling valves.