ALFA LAVAL KOLTEK SHUTTER VALVES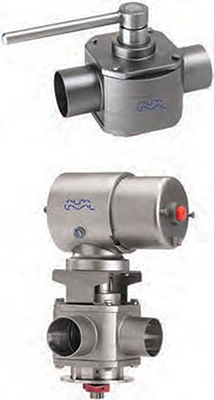 The Alfa Laval Koltek Shutter Valves are a manually or pneumatically operated valve, designed for use in the food, chemical, pharmaceutical and other industries where valves of sanitary design are needed.
The koltek valves from Alfa Laval consist of a rigid body with an internal cylindrical bore, a PTFE shutter and three ports for pipe connection. A PTFE shutter is operated by means of a handle or an actuator. A spring system presses the shutter against the inside cylindrical surface of the valve body, thus ensuring complete tightness.
The air actuated valve can be fitted with ThinkTop® or a laterally-fitted indication unit for remote indication of the valve position. The manually-operated valve can be fitted with laterally indication units (used for LKLA actuators). The actuator for the valve comes in two versions: single acting or double acting.
The single acting actuator operates with one main piston, whereas the double acting actuator operates with two main pistons. Koltek parts are available.
for more information about the Alfa Laval Koltek Shutter Valve.