ALFA LAVAL SRU ROTARY LOBE PUMPS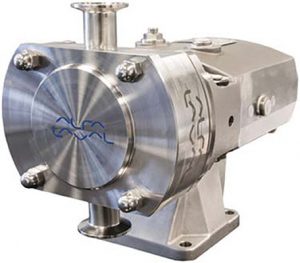 Harco offers the Alfa Laval SRU rotary lobe pumps that are engineered to provide reliable performance, trouble-free operation, and superior energy efficiency for demanding applications. The SRU is Alfa Laval's core rotary lobe pump for the gentle handling of sensitive process fluids within the dairy, food and beverage, biotechnology and pharmaceutical industries.
The Alfa Laval SRU contamination-proof pump meets high standards of hygiene, low-shear and low-pulsation operation, and handles both Cleaning-in-Place (CIP) and Sterilization-in-Place (SIP).
Alfa Laval's SRU's modular design offers greater flexibility to configure exactly the right solution for specific process requirements.
To meet different process requirements, the Alfa Laval SRU positive displacement pump features an R90 external shaft seal, which may be specified in various materials and configurations in order to ensure the correct shaft seal for the application. Alternatively, the SRU can be fitted with Hyclean mechanical seals as well as other seal solutions.
Along with its range of models and capacities available in horizontal or vertical porting, the Alfa Laval SRU pump comes with other options, including standard and custom seals, heating/cooling saddles and jackets, an integrated pressure relief valve, and a rectangular inlet for pumping high viscosity fluids.
Contact Harco for your Alfa Laval SRU Pump or SRU replacement part inquires.
Alfa Laval SRU Pump - R90 Single Mechanical Seals
| | | | | | | | |
| --- | --- | --- | --- | --- | --- | --- | --- |
| Seal Type | Description Rotary Seal/Stationary Seal Ring | SRU 1 | SRU 2 | SRU 3 | SRU 4 | SRU 5 | SRU 6 |
| Single Mechanical | Stainless Steel/Carbon, NBR | 9630032046 | 9630033227 | 9630033230 | 9630033114 | 9630033117 | 9630033237 |
| Single Mechanical | Stainless Steel/Carbon, EPDM | 9630026348 | 9630033228 | 9630033231 | 9630033233 | 9630033235 | 9630033239 |
| Single Mechanical | Stainless Steel/Carbon, FPM | 9630032577 | 9630032841 | 9630032908 | 9630032968 | 9630033118 | 9630033238 |
| Single Mechanical | Stainless Steel/Carbon, PTFE | 9630033226 | 9630033229 | 9630033232 | 9630033234 | 9630033236 | 9630033240 |
| Single Mechanical | Stainless Steel/Inserted Carbon, NBR | 9630032044 | 9630033248 | 9630033252 | 9630033253 | 9630033254 | 9630033255 |
| Single Mechanical | Stainless Steel/Inserted Carbon, EPDM | 9630033246 | 9630033250 | 9630033257 | 9630033260 | 9630033263 | 9630033266 |
| Single Mechanical | Stainless Steel/Inserted Carbon, FPM | 9630033245 | 9630033249 | 9630033256 | 9630033259 | 9630033262 | 9630033265 |
| Single Mechanical | Stainless Steel/Inserted Carbon, PTFE | 9630033247 | 9630033251 | 9630033258 | 9630033261 | 9630033264 | 9630033267 |
| Single Mechanical | Tungsten Carbide/Inserted Carbon, NBR | 9630032048 | 9630033268 | 9630033269 | 9630033270 | 9630033271 | 9630033272 |
| Single Mechanical | Tungsten Carbide/Inserted Carbon, EPDM | 9630033274 | 9630033277 | 9630033280 | 9630033283 | 9630033286 | 9630033289 |
| Single Mechanical | Tungsten Carbide/Inserted Carbon, FPM | 9630033273 | 9630033276 | 9630033279 | 9630033282 | 9630033285 | 9630033288 |
| Single Mechanical | Tungsten Carbide/Inserted Carbon, PTFE | 9630033275 | 9630033278 | 9630033281 | 9630033284 | 9630033287 | 9630033290 |
| Single Mechanical | Tungsten Carbide/Tungsten Carbide, NBR | 9630032049 | 9630032473 | 9630033291 | 9630033292 | 9630033293 | 9630033294 |
| Single Mechanical | Tungsten Carbide /Tungsten Carbide, EPDM | 9630033296 | 9630033299 | 9630033302 | 9630033305 | 9630033308 | 9630033311 |
| Single Mechanical | Tungsten Carbide/Tungsten Carbide, FPM | 9630033295 | 9630033298 | 9630033301 | 9630033304 | 9630033307 | 9630033310 |
| Single Mechanical | Tungsten Carbide/Tungsten Carbide, PTFE | 9630033297 | 9630033300 | 9630033303 | 9630033306 | 9630033309 | 9630033312 |
| Single Mechanical | Silicon Carbide/Inserted Carbon, NBR | 9630090695 | 9630090697 | 9630090699 | 9630042382 | 9630087180 | 9630090707 |
| Single Mechanical | Silicon Carbide/Inserted Carbon, EPDM | 9630090694 | 9630090696 | 9630073216 | 9630087140 | 9630090703 | 9630032866 |
| Single Mechanical | Silicon Carbide/Inserted Carbon, FPM | 9630069887 | 9630024870 | 9630090700 | 9630031835 | 9630090704 | 9630028988 |
| Single Mechanical | Silicon Carbide Inserted Carbon, PTFE | 9630071429 | 9630090698 | 9630090701 | 9630057619 | 9630085989 | 9630069377 |
| Single Mechanical | Silicon Carbide/Silicon Carbide, NBR | 9630032051 | 9630022584 | 9630043322 | 9630090702 | 9630062756 | 9630090705 |
| Single Mechanical | Silicon Carbide/Silicon Carbide, EPDM | 9630056727 | 9630060647 | 9630050713 | 9630061483 | 9630057537 | 9630077819 |
| Single Mechanical | Silicon Carbide/Silicon Carbide, FPM | 9630035318 | 9630060084 | 9630035405 | 9630045054 | 9630045055 | 9630032232 |
| Single Mechanical | Silicon Carbide/Silicon Carbide, PTFE | 9630090693 | 9630030257 | 9630073421 | 9630039376 | 9630045555 | 9630090706 |
Alfa Laval SRU Pump - Hyclean Single Mechanical Seals
| | | | | | | | |
| --- | --- | --- | --- | --- | --- | --- | --- |
| Seal Type | Description Rotary Seal/Stationary Seal Ring | SRU 1 | SRU 2 | SRU 3 | SRU 4 | SRU 5 | SRU 6 |
| Single Mechanical | Stainless Steel/Carbon, NBR | 9630070142 | 9630046729 | 9630046733 | 9630046737 | 9630046738 | 9630053215 |
| Single Mechanical | Stainless Steel/Carbon, EPDM | 9630053608 | 9630046731 | 9630046735 | 9630046741 | 9630046744 | 9630041719 |
| Single Mechanical | Stainless Steel/Carbon, FPM | 9630060999 | 9630046730 | 9630046734 | 9630046740 | 9630046743 | 9630030780 |
| Single Mechanical | Silicon Carbide/Carbon, NBR | 9630090687 | 9630046745 | 9630046749 | 9630046752 | 9630046755 | 9630090689 |
| Single Mechanical | Silicon Carbide/Carbon, EPDM | 9630090686 | 9630046747 | 9630046751 | 9630046754 | 9630046757 | 9630041729 |
| Single Mechanical | Silicon Carbide/Carbon, FPM | 9630057357 | 9630046746 | 9630046750 | 9630046753 | 9630046756 | 9630057267 |
| Single Mechanical | Silicon Carbide/Silicon Carbide, NBR | 9630090685 | 9630046758 | 9630046761 | 9630046765 | 9630046769 | 9630060539 |
| Single Mechanical | Silicon Carbide/Silicon Carbide, EPDM | 9630053609 | 9630046760 | 9630046763 | 9630046767 | 9630046771 | 9630041720 |
| Single Mechanical | Silicon Carbide/Silicon Carbide, FPM | 9630065312 | 9630046759 | 9630046762 | 9630046766 | 9630046770 | 9630049360 |
Alfa Laval SRU Pump - Cover/Spline Sealing Kit
| | | | | | | |
| --- | --- | --- | --- | --- | --- | --- |
| Description | SRU 1 | SRU 2 | SRU 3 | SRU 4 | SRU 5 | SRU 6 |
| Cover/Spline Sealing Kit, NBR | 9630099423 | 9630099431 | 9630099440 | 9630099449 | 9630099458 | 9630099467 |
| Cover/Spline Sealing Kit, EPDM | 9630099424 | 9630099432 | 9630099441 | 9630099450 | 9630099459 | 9630099468 |
| Cover/Spline Sealing Kit, FPM | 9630099425 | 9630099433 | 9630099442 | 9630099451 | 9630099460 | 9630099469 |
| Cover/Spline Sealing Kit, PTFE | 9630099426 | 9630099434 | 9630099443 | 9630099452 | 9630099461 | 9630099470 |
Includes: rotor case cover O-ring + 2 pcs of: rotor O-rings for shaft end and rotor O-rings for nut end
Alfa Laval SRU Pump - Hyclean Single Mechanical Service Kits
| | | | | | | | |
| --- | --- | --- | --- | --- | --- | --- | --- |
| Seal Type | Description Rotary Seal/Stationary Seal Ring | SRU 1 | SRU 2 | SRU 3 | SRU 4 | SRU 5 | SRU 6 |
| Single Mechanical | Stainless Steel/Carbon, NBR | 9630856395 | 9630856419 | 9630856443 | 9630856467 | 9630856491 | 9630856515 |
| Single Mechanical | Stainless Steel/Carbon, EPDM | 9630856396 | 9630856420 | 9630856444 | 9630856468 | 9630856492 | 9630856516 |
| Single Mechanical | Stainless Steel/Carbon, FPM | 9630856397 | 9630856421 | 9630856445 | 9630856469 | 9630856493 | 9630856517 |
| Single Mechanical | Silicon Carbide/Carbon, NBR | 9630856398 | 9630856422 | 9630856446 | 9630856470 | 9630856494 | 9630856518 |
| Single Mechanical | Silicon Carbide/Carbon, EPDM | 9630856399 | 9630856423 | 9630856447 | 9630856471 | 9630856495 | 9630856519 |
| Single Mechanical | Silicon Carbide/Carbon, FPM | 9630856400 | 9630856424 | 9630856448 | 9630856472 | 9630856496 | 9630856520 |
| Single Mechanical | Silicon Carbide/Silicon Carbide, NBR | 9630856401 | 9630856425 | 9630856449 | 9630856473 | 9630856497 | 9630856521 |
| Single Mechanical | Silicon Carbide/Silicon Carbide, EPDM | 9630856402 | 9630856426 | 9630856450 | 9630856474 | 9630856498 | 9630856522 |
| Single Mechanical | Silicon Carbide/Silicon Carbide, FPM | 9630856403 | 9630856427 | 9630856451 | 9630856475 | 9630856499 | 9630856523 |
| Single Mechanical | Silicon Carbide/Silicon Carbide Inserted , NBR | 9630851643 | 9630856529 | 9630856537 | 9630856545 | 9630856553 | 9630852356 |
| Single Mechanical | Silicon Carbide/Silicon Carbide Inserted , EPDM | 9630851640 | 9630856530 | 9630856538 | 9630856546 | 9630856554 | 9630852353 |
| Single Mechanical | Silicon Carbide/Silicon Carbide Inserted, FPM | 9630851642 | 9630856531 | 9630856539 | 9630856547 | 9630856555 | 9630852355 |