Alfa Laval Unique 7000 Relief Valves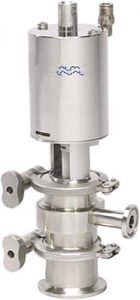 ​The Unique 7000 vacuum breaker from Alfa Laval provides relief from vacuum in process lines, along with the latest in sanitary design and cleanability. This air operated vacuum breaker is used to eliminate vacuum on the downstream side of the pasteurizer in an HTST system or other situations where a vacuum can occur in a process line.
The Unique 7000 vacuum breaker valve complies with 3‑A sanitary standards. Sharing the same actuator as the Unique 7000 small single seat valve, it can is CIP-able and needs only one air connection for CIP control. In addition, the Unique 7000 vacuum breaker can be fitted with an IndiTop® or ThinkTop® position indication unit. This enables verification that the valve is properly functioning during process and CIP operations via indication feedback from the top unit.
Click the links below to browse our selection of vacuum breakers/relief valves.