ALFA LAVAL LKRK FIXED STATIC SPRAY BALL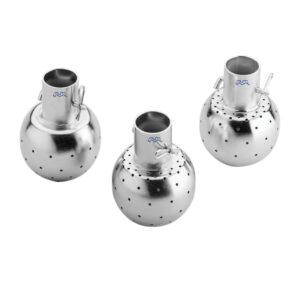 Harco offers the Alfa Laval LKRK fixed static spray ball for hygienic and industrial applications, including the food and beverage industries. Cleaning tanks with capacities from 5-75 m3, using a high flow rate and low pressure to clean the tank.
The Alfa Laval LKRK Static Spray Ball is designed to remove simple residues from various tanks, such as Cleaning-in-Place tanks, milk silos, and water tanks, with a maximum diameter of ~Ø6 m. For sizing, contact Harco.
Alfa Laval's LKRK Static Spray Ball comes in two sizes: the LKRK-64 and the LKRK-94. Both spray balls are available with different spray patterns. The F-version provides 360° coverage, while the T and B versions provide a cleaning pattern that cleans only upwards or downwards. All spray balls are available with clip-on connections for both ISO and DIN tubes.
Benefits
Easy to inspect
No moving parts
Ideal for easy tank cleaning duties
Click the links below to browse our selection of tank cleaning devices.