ALFA LAVAL SX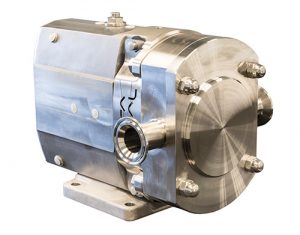 Alfa Laval's SX multi-lobe rotor geometry offers low pulsation and gentle pumping. This makes it the best choice for transporting sensitive products that require gentle handling to minimize shearing.
This EHEDG-approved pump is designed for both Cleaning-in-Place (CIP) and Sterilization-in-Place (SIP). The SX rotary lobe pumps are designed to maximize performance and minimize the risk of contamination. These include a low-profile rotor nut, hygienic front-loading mechanical seals, defined compression front cover sealing, a fully-drainable pump head with a 3° fall angle, and sanitary or ultra-clean surface finishes.
Available in 14 different models, SX rotary lobe pumps can handle a variety of viscosity and temperature requirements and flow rates.
The Alfa Laval SX is also available in the SX UltraPure version, designed to use on wide ranging applications within the food and dairy processors, food and beverage service, pharmaceutical, brewing, fisheries, and other industries.
Contact Harco for your Alfa Laval SX Pump or SX replacement part inquires.