ALFA LAVAL V50/V70 ThinkTop® VALVE CONTROL UNITS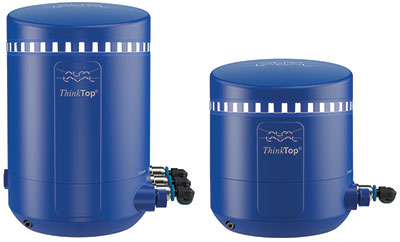 Harco offers the compact Alfa Laval ThinkTop® V50 and V70 valve control units, the second-generation of the leading sensing and control units for hygienic valves. It ensures unmatched control of all Alfa Laval valves used in the dairy, food, beverage, brewery and pharmaceutical industries.
The ThinkTop® V50 and V70 valve control units from Alfa Laval offer a single-sensor solution for butterfly, single-seat and mixproof valves; a single control unit can be fitted with up to three solenoid valves. Alfa Laval's ThinkTop® valve control units convert the electrical PLC output signals into mechanical energy to energize or de-energize the air-operated valve, using the physical sensor target mounted on the valve stem.
Installation with auto setup is intuitive and fast. To initiate auto setup, simply press the "Select" button and then the "Enter" button to begin the setup sequence. The process is completed in accordance with the number of solenoid valves fitted to the control unit. Alternatively, the Alfa Laval ThinkTop® valve control units can be set up without dismantling the control head using the built-in "Live setup" feature for remote configuration.
Maintain your peace of mind and control your hygienic valves effortlessly with the Alfa Laval ThinkTop® V50 and V70 valve control units. Enjoy minimalist aesthetic housing made of composite material with a single sensor target control board to handle all valve functions and communication. No adapters, special tools or cover screws required. Non-crossing, color-coded air hoses ensure straightforward connections.
Watch this animation to learn about the operating principles of Alfa Laval ThinkTop® V50 and V70.
Alfa Laval ThinkTop V50 Digital PNP
| | | | | | |
| --- | --- | --- | --- | --- | --- |
| Part # | Supply Control board  | Main entry  | Solenoid valve  | Air hose connection  | Solenoid type  |
| 9615400401  | 24 VDC | Cable gland | 0 |   |   |
| 9615400403 | 24 VDC | Cable gland | 1 | ø6mm | 2-Mar |
| 9615400405 | 24 VDC | Cable gland | 1 | 1/4″ | 2-Mar |
| 9615400402  | 24 VDC | M12 plug | 0 |   |   |
| 9615400404 | 24 VDC | M12 plug | 1 | ø6mm | 2-Mar |
| 9615400406 | 24 VDC | M12 plug | 1 | 1/4″ | 2-Mar |
Alfa Laval ThinkTop V50 AS-Interface v2.1, 31 node
| | | | | | |
| --- | --- | --- | --- | --- | --- |
| Part # | Supply Control board  | Main entry  | Solenoid valve  | Air hose connection  | Solenoid type  |
| 9615400407  | 29.5 -31.6 VDC | Cable gland | 0 |   |   |
| 9615400409 | 29.5 -31.6 VDC | Cable gland | 1 | ø6mm | 2-Mar |
| 9615400411 | 29.5 -31.6 VDC | Cable gland | 1 | 1/4″ | 2-Mar |
| 9615400408  | 29.5 -31.6 VDC | M12 plug | 0 |   |   |
| 9615400410 | 29.5 -31.6 VDC | M12 plug | 1 | ø6mm | 2-Mar |
| 9615400412 | 29.5 -31.6 VDC | M12 plug | 1 | 1/4″ | 2-Mar |
Alfa Laval ThinkTop V50 AS-Interface v3.0, 62 node
| | | | | | |
| --- | --- | --- | --- | --- | --- |
| Part # | Supply Control board  | Main entry  | Solenoid valve  | Air hose connection  | Solenoid type  |
| 9615400413  | 29.5 -31.6 VDC  | Cable gland  | 0 |   |   |
| 9615400415 | 29.5 -31.6 VDC  | Cable gland  | 1 | ø6mm  | 2-Mar |
| 9615400417 | 29.5 -31.6 VDC  | Cable gland  | 1 | 1/4″  | 2-Mar |
| 9615400414  | 29.5 -31.6 VDC  | M12 plug  | 0 |   |   |
| 9615400416 | 29.5 -31.6 VDC  | M12 plug  | 1 | ø6mm  | 2-Mar |
| 9615400418 | 29.5 -31.6 VDC  | M12 plug  | 1 | 1/4″  | 2-Mar |
Alfa Laval ThinkTop V50 Digital IO-Link
| | | | | | |
| --- | --- | --- | --- | --- | --- |
| Part # | Supply Control board  | Main entry  | Solenoid valve  | Air hose connection  | Solenoid type  |
| 9615400419  | 24 VDC  | M12 plug  | 0 |   |   |
| 9615400420 | 24 VDC  | M12 plug  | 1 | ø6mm  | 2-Mar |
| 9615400421 | 24 VDC  | M12 plug  | 1 | 1/4″  | 2-Mar |
Alfa Laval ThinkTop V70 Digital PNP
| | | | | | |
| --- | --- | --- | --- | --- | --- |
| Part # | Supply Control board  | Main entry  | Solenoid valve  | Air hose connection  | Solenoid type  |
| 9615400001  | 24 VDC  | Cable gland  | 0 |   |   |
| 9615400003 | 24 VDC  | Cable gland  | 1 | ø6mm  | 2-Mar |
| 9615400007  | 24 VDC  | Cable gland  | 2 | ø6mm  | 2-Mar |
| 9615400011 | 24 VDC  | Cable gland  | 3 | ø6mm  | 2-Mar |
| 9615400015 | 24 VDC  | Cable gland  | 1 | ø6mm  | 2-May |
| 9615400005  | 24 VDC  | Cable gland  | 1 | 1/4″  | 2-Mar |
| 9615400009 | 24 VDC  | Cable gland  | 2 | 1/4″  | 2-Mar |
| 9615400013 | 24 VDC  | Cable gland  | 3 | 1/4″  | 2-Mar |
| 9615400017 | 24 VDC  | Cable gland  | 1 | 1/4″  | 2-May |
| 9615400002  | 24 VDC  | M12 plug  | 0 |   |   |
| 9615400004  | 24 VDC  | M12 plug  | 1 | ø6mm  | 2-Mar |
| 9615400008 | 24 VDC  | M12 plug  | 2 | ø6mm  | 2-Mar |
| 9615400012 | 24 VDC  | M12 plug  | 3 | ø6mm  | 2-Mar |
| 9615400016 | 24 VDC  | M12 plug  | 1 | ø6mm  | 2-May |
| 9615400006  | 24 VDC  | M12 plug  | 1 | 1/4″  | 2-Mar |
| 9615400010 | 24 VDC  | M12 plug  | 2 | 1/4″  | 2-Mar |
| 9615400014 | 24 VDC  | M12 plug  | 3 | 1/4″  | 2-Mar |
| 9615400018 | 24 VDC  | M12 plug  | 1 | 1/4″  | 2-May |
Alfa Laval ThinkTop V70 AS-Interface v2.1, 31 node
| | | | | | |
| --- | --- | --- | --- | --- | --- |
| Part # | Supply Control board  | Main entry  | Solenoid valve  | Air hose connection  | Solenoid type  |
| 9615400101  | 29.5 -31.6 VDC  | Cable gland  | 0 |   |   |
| 9615400103 | 29.5 -31.6 VDC  | Cable gland  | 1 | ø6mm  | 2-Mar |
| 9615400107 | 29.5 -31.6 VDC  | Cable gland  | 2 | ø6mm  | 2-Mar |
| 9615400111 | 29.5 -31.6 VDC  | Cable gland  | 3 | ø6mm  | 2-Mar |
| 9615400115 | 29.5 -31.6 VDC  | Cable gland  | 1 | ø6mm  | 2-May |
| 9615400105  | 29.5 -31.6 VDC  | Cable gland  | 1 | 1/4″  | 2-Mar |
| 9615400109 | 29.5 -31.6 VDC  | Cable gland  | 2 | 1/4″  | 2-Mar |
| 9615400113 | 29.5 -31.6 VDC  | Cable gland  | 3 | 1/4″  | 2-Mar |
| 9615400117 | 29.5 -31.6 VDC  | Cable gland  | 1 | 1/4″  | 2-May |
| 9615400102  | 29.5 -31.6 VDC  | M12 plug  | 0 |   |   |
| 9615400104 | 29.5 -31.6 VDC  | M12 plug  | 1 | ø6mm  | 2-Mar |
| 9615400108 | 29.5 -31.6 VDC  | M12 plug  | 2 | ø6mm  | 2-Mar |
| 9615400112 | 29.5 -31.6 VDC  | M12 plug  | 3 | ø6mm  | 2-Mar |
| 9615400116 | 29.5 -31.6 VDC  | M12 plug  | 1 | ø6mm  | 2-May |
| 9615400106  | 29.5 -31.6 VDC  | M12 plug  | 1 | 1/4″  | 2-Mar |
| 9615400110 | 29.5 -31.6 VDC  | M12 plug  | 2 | 1/4″  | 2-Mar |
| 9615400114 | 29.5 -31.6 VDC  | M12 plug  | 3 | 1/4″  | 2-Mar |
| 9615400118 | 29.5 -31.6 VDC  | M12 plug  | 1 | 1/4″  | 2-May |
Alfa Laval ThinkTop V70 AS-Interface v3.0, 62 node
| | | | | | |
| --- | --- | --- | --- | --- | --- |
| Part # | Supply Control board  | Main entry  | Solenoid valve  | Air hose connection  | Solenoid type  |
| 9615400201  | 29.5 -31.6 VDC  | Cable gland  | 0 |   |   |
| 9615400203 | 29.5 -31.6 VDC  | Cable gland  | 1 | ø6mm  | 2-Mar |
| 9615400207 | 29.5 -31.6 VDC  | Cable gland  | 2 | ø6mm  | 2-Mar |
| 9615400211 | 29.5 -31.6 VDC  | Cable gland  | 3 | ø6mm  | 2-Mar |
| 9615400215 | 29.5 -31.6 VDC  | Cable gland  | 1 | ø6mm  | 2-May |
| 9615400205  | 29.5 -31.6 VDC  | Cable gland  | 1 | 1/4″  | 2-Mar |
| 9615400209 | 29.5 -31.6 VDC  | Cable gland  | 2 | 1/4″  | 2-Mar |
| 9615400213 | 29.5 -31.6 VDC  | Cable gland  | 3 | 1/4″  | 2-Mar |
| 9615400217 | 6629.5 -31.6 VDC  | Cable gland  | 1 | 1/4″  | 2-May |
| 9615400202  | 29.5 -31.6 VDC  | M12 plug  | 0 |   |   |
| 9615400204 | 29.5 -31.6 VDC  | M12 plug  | 1 | ø6mm  | 2-Mar |
| 9615400208 | 29.5 -31.6 VDC  | M12 plug  | 2 | ø6mm  | 2-Mar |
| 9615400212 | 29.5 -31.6 VDC  | M12plug  | 3 | ø6mm  | 2-Mar |
| 9615400216 | 29.5 -31.6 VDC  | M12 plug  | 1 | ø6mm  | 2-May |
| 9615400206  | 29.5 -31.6 VDC  | M12 plug  | 1 | 1/4″  | 2-Mar |
| 9615400210 | 29.5 -31.6 VDC  | M12 plug  | 2 | 1/4″  | 2-Mar |
| 9615400214 | 29.5 -31.6 VDC  | M12 plug  | 3 | 1/4″  | 2-Mar |
| 9615400218 | 29.5 -31.6 VDC  | M12 plug  | 1 | 1/4″  | 2-May |
Alfa Laval ThinkTop V70 Digital IO-Link
| | | | | | |
| --- | --- | --- | --- | --- | --- |
| Part # | Supply Control board  | Main entry  | Solenoid valve  | Air hose connection  | Solenoid type  |
| 9615400301  | 24 VDC  | M12 plug  | 0 |   |   |
| 9615400302 | 24 VDC  | M12 plug  | 1 | ø6mm  | 2-Mar |
| 9615400304 | 24 VDC  | M12 plug  | 2 | ø6mm  | 2-Mar |
| 9615400306 | 24 VDC  | M12 plug  | 3 | ø6mm  | 2-Mar |
| 9615400308 | 24 VDC  | M12 plug  | 1 | ø6mm  | 2-May |
| 9615400303  | 24 VDC  | M12 plug  | 1 | 1/4″  | 2-Mar |
| 9615400305 | 24 VDC  | M12 plug  | 2 | 1/4″  | 2-Mar |
| 9615400307 | 24 VDC  | M12 plug  | 3 | 1/4″  | 2-Mar |
| 9615400309 | 24 VDC  | M12 plug  | 1 | 1/4″  | 2-May |